Deputy Prime Minister and Minister of Works and Urban Development Philip Davis praised the developers of the $200-million The Pointe – an upscale lifestyle, residential and retail development on Nassau's waterfront – during the Phase II groundbreaking ceremony March 11, 2017.

"Phase II of The Pointe will encompass development of a 100-room, eight-storey condominium complex with oceanfront residences, which is slated to open in September 2018," Davis said. "The 150-room branded resort and spa with business centre, dining and retail amenities will open shortly thereafter in November 2018."
On its completion, Deputy Prime Minister Davis noted, The Pointe will include a marina and yacht club, 50,000 sq ft of retail and office space, restaurants, upscale shopping and exciting entertainment venues – such as a performing arts centre, movie theatre, nightclub and roof top bar.
Some of those entertainment experiences are slated to open in November next year, he added.
"In addition to the 277 employees at the existing hotel and Commerce Centre, 200 Bahamian construction employees will be engaged by the developer during this phase of development," Davis said. "On completion, an additional 500 permanent employees will be hired at the resort."
The Deputy Prime Minister said that the developer had also agreed to partner with the government to enhance the Lighthouse Beach, just west of the property, and to ensure that "an attractive pathway" would connect access along the promenade to Arawak Cay.
"The Bahamas government is very appreciative of the commitment, resolve and cooperation demonstrated by China Construction America (CCA)," he said. "In its role as general contractor for the completion of construction at Baha Mar added to this development, we thank CCA for its demonstrated confidence in the government and people of The Bahamas."
Deputy Prime Minister Davis added: "We eagerly anticipate the transformative impact of The Pointe development on the city of Nassau. With construction thus far, we can already see its potential."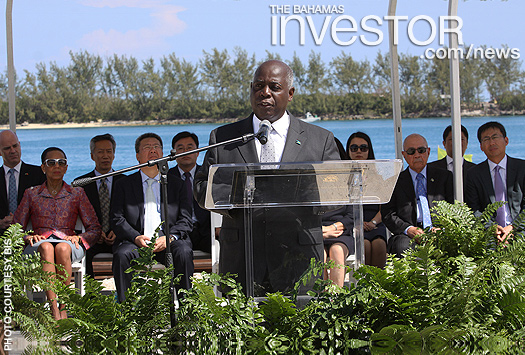 Pictured: Deputy Prime Minister and Minister of Works and Urban Development Philip Davis addresses The Pointe Phase II groundbreaking ceremony, March 11, 2017 at the Bay Street property. (BIS Photo/Patrick Hanna)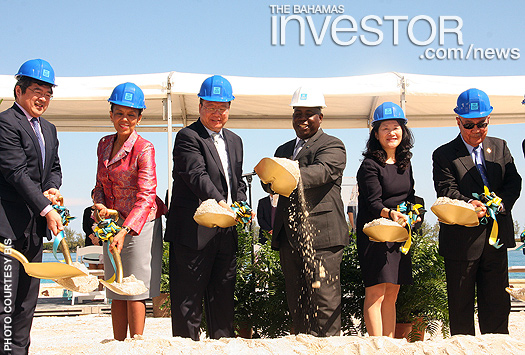 Pictured: Deputy Prime Minister Davis, centre right, and president of China Construction America Ning Yuan, centre left, help break ground on The Pointe Phase II development March 11, 2017. (BIS Photo/Patrick Hanna)