Source:
Date:
Updated:
Author:
AINonline
Wednesday, February 8, 2017
Wednesday, February 8, 2017
Curt Epstein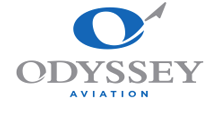 Caribbean-based aviation services provider Odyssey Aviation has expanded its network back into the U.S., partnering with the Quantem FBO Group to rebrand its locations at Detroit's Willow Run Airport and Orlando's Kissimmee Gateway Airport as Odyssey FBOs.
Steven Kelly, CEO of Odyssey Aviation Bahamas, and Quantem CEO Ken Allison were formerly partners who established the Odyssey Aviation brand in 2008. Allison sold off his seven U.S. FBOs in 2011, while Kelly continued to operate the locations in the Bahamas, which now number three full-service FBOs and two ground handling stations.

"I am proud of how well my Bahamas team has developed the Odyssey brand over the last six years and brought global recognition to our name," noted Kelly.
In 2016, Allison acquired the two U.S. FBOs to start Quantem. "I am looking forward to once again serving the general aviation community with our two FBOs, and I am excited about the future," said Allison. "My Quantem team and I plan to quickly expand the Odyssey Aviation U.S. network as opportunities present themselves."
The newly rebranded Odyssey location near Detroit also followed the lead of its full-service Bahamas siblings in Nassau, Exuma and San Salvador in joining the Paragon FBO Nework.
Source: AINonline.