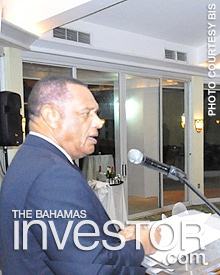 Pictured: Prime Minister and Minister of Finance Perry Christie gives his keynote address at the Bahamas Financial Services Board's Annual Business and Financial Summit, held at Lighthouse Point, Our Lucaya, January 27. (BIS Photo)
During his address of the Bahamas Financial Services Board's (BFSB) annual International Business and Financial Summit in Freeport, Grand Bahama, January 27, Prime Minister and Minister of Finance Perry Christie said his government is focused on increasing the ease of doing business in The Bahamas.
To this end, he said, the government has moved to introduce a Competitiveness Council, a partnership between the National Development Plan Secretariat within the Office of The Prime Minister and the private sector.

This council is expected to produce an action plan that can profoundly impact the ability of the financial sector of The Bahamas to service its clients.
Addressing the topic "Responding to change through innovation", Prime Minister Christie told BFSB executives and members that he is aware that the government plays a role as a major service provider and admitted that any inefficiency and bureaucratic red tape adversely affects business in The Bahamas.
"We have resolved that this will be a thing of the past," said Prime Minister Christie. "A more agile responsive government, which focuses on key priorities, is a central component of my promise to you."
"My government pledges to provide an enabling environment that would permit the sector to think laterally and respond as challenges arise."
To meet this commitment, the Prime Minister said that his government has been engaged in a number of programmes to modernize and transform how it does business, so as to remove any impediment to growth and efficiency.
The Prime Minister said that in order to be successful in the financial sector, there is the constant need for innovation. As such, he noted that the financial services sector cannot rely on the old business modalities. He said it must approach the new world paradigm laterally, utilizing the natural creativity of Bahamians to identify non-traditional solutions, so as to remain on the cutting edge of a dynamic marketplace.
Prime Minister Christie said: "We see the development of new legislative structures of the Investment Funds Act, the development of frameworks to facilitate crowd funding, and the launch of the partnership of BFSB and two government ministries to introduce a foreign language initiative as evidence of change."
The Prime Minister called for a new pact to be made between the financial services sector and the government.
"Firstly, let us agree that the continued survival and growth of the sector is essential to our way of life as a Bahamian people."
"Also, let us agree that government must be more responsive to the needs of the financial sector."
"Thirdly, let us agree that growing the financial services sector will require difficult and complex decisions around emotive issues, such as appropriate changes to immigration rules, tax reform and general liberalization."
"Let us commit to having those hard conversations and working at a solution within one year. That is my government's commitment to you."