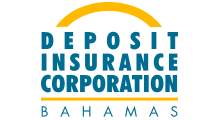 The Deposit Insurance Corporation (DIC) has announced the launch of its 2017 public awareness campaign. The campaign is aimed at maintaining and strengthening public confidence in the financial system, and educating the public on the role of the DIC in protecting the interest of Bahamian dollar depositors.
The chairman of the DIC and Governor of The Central Bank of The Bahamas, John Rolle, hailed the campaign as an important initiative in keeping with the public policy objective of the corporation and promoting the stability of the domestic financial system.

"We have realized that many, if not most, Bahamians did not fully appreciate that their Bahamian dollar deposits in any local bank are insured up to $50,000," said Rolle.
"The Deposit Insurance Fund has assets of more than $40 million against a deposit base of around $6 billion. While the corporation has embarked on various public awareness initiatives in recent years, we see this campaign as an opportunity to continue to build on those efforts. The DIC is partnering with the member banks so that the information shared with the public is clear and consistent through appropriate paraphernalia and visual aids."
Rolle noted that broad-based media coverage through public service announcements will be prominent features of the campaign, in addition to information briefings to targeted groups.
The DIC is a statutory corporation, established under the Protection of Depositors Act, 1999 on 30 September, 1999. Membership in the Deposit Insurance Fund is compulsory for every licensed bank holding Bahamian dollar deposits.
The DIC enjoys a close symbiotic relationship with Central Bank. While the DIC is a separate legal statutory body with its own Board who execute decisions that govern its affairs, the management services of the DIC are carried out by staff of Central Bank as provided under a Service Level Agreement between Central Bank and the DIC.
The board members of the DIC, include, the Governor of the Central Bank, two other senior officials of the Bank, the Financial Secretary in the Ministry of Finance, and two external directors appointed by the Minister of Finance.