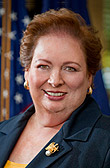 Acting Assistant Secretary of State for Western Hemisphere Affairs Mari Carmen Aponte visited The Bahamas October 27-28, 2016 and met with Prime Minister and Minister of Finance Perry Christie, Minister of National Security Dr Bernard Nottage, and Minister of Foreign Affairs and Immigration Fred Mitchell.
During her visit, she assessed hurricane recovery efforts in the aftermath of Hurricane Matthew, which impacted The Bahamas at the beginning of October.
Aponte also discussed a range of bilateral and regional issues with senior officials.