Prime Minister and Minister of Finance Perry Christie, Minister responsible for Hurricane Relief and Restoration Shane Gibson, and members of Parliament joined a team operating under the umbrella of the National Emergency Management Agency (NEMA) and other pertinent stakeholders for an interactive visit with residents in Southern New Providence October 17, 2016.

"One of the reasons I wanted to come out here in the South was because we placed a lot of emphasis on Andros, Grand Bahama – Lowe Sound, Freeport, West End – and people may have gotten the impression that the damage is much less here in New Providence and it is really not," Prime Minister Christie said.
The first stop was the historic community of Adelaide, where Prime Minister Christie, Minister Gibson, Minister of State for Investment Michael Halkitis and other members of Parliament spoke to various residents, while NEMA and Department of Social Services representatives, several police officers and Urban Renewal officials worked to ascertain their various needs after the onslaught of Hurricane Matthew.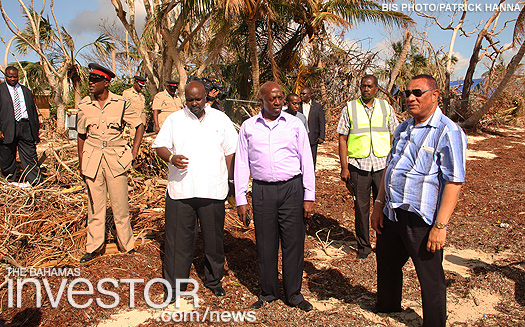 Pictured: Prime Minister Christie (right) and Ministers Kenred Dorsett (centre left) and Shane Gibson (centre right), view the aftermath of Hurricane Matthew in the Adelaide area of New Providence. (BIS Photo/Patrick Hanna)
The team visited Marshall Road and witnessed firsthand the surge waters that were still present in several places. They also heard harrowing tales of survival from those who did not heed the warnings to leave the area. Minister of the Environment and Housing Kendred Dorsett showed the team a horseshoe-shaped road that was still partially submerged.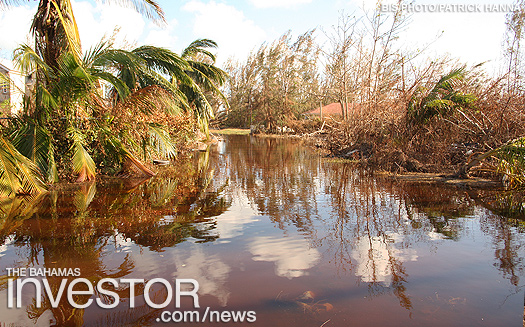 Pictured: The water level in the Marshall Road area remains high days after the storm. (BIS Photo/Patrick Hanna)
Throughout the visit, needs were assessed, tarpaulins were distributed as temporary fixes as needed, and residents had a chance to speak firsthand with officials.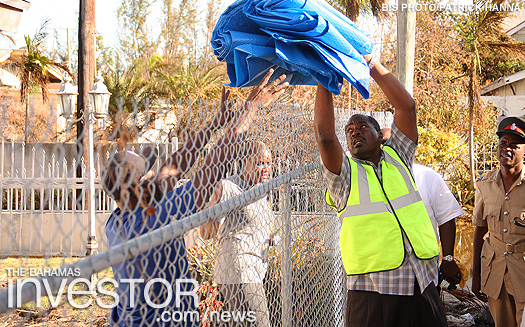 Pictured: NEMA director Captain Stephen Russell hands out roofing tarp. (BIS Photo/Patrick Hanna)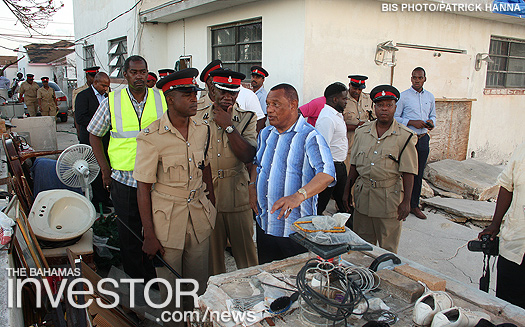 Pictured: Prime Minister Christie discusses relief efforts with local officials. (BIS Photo/Patrick Hanna)