CIBC FirstCaribbean has appointed Gary Brown as chief executive officer of CIBC FirstCaribbean with effect 1 January 2016.
Prior to this role, he was global head of corporate banking with the bank's parent company, CIBC.
The new CEO has stated his intention to build on the strong recovery that the bank has been seeing over the past two quarters, with its highest net income in five years being recorded in the third quarter of 2015.

In a message to employees, he said that his focus will be on the acceleration of growth across the bank's regional footprint through an even stronger emphasis on customer service.
"We are a service business and serving our customers well is the only way we can distinguish ourselves from the competition and achieve success. I personally intend to stay focused by making contact with at least one customer every single day – either in person, in client meetings or by telephone."
Brown succeeds Rik Parkhill, who demitted office at the end of December after a four-year tenure.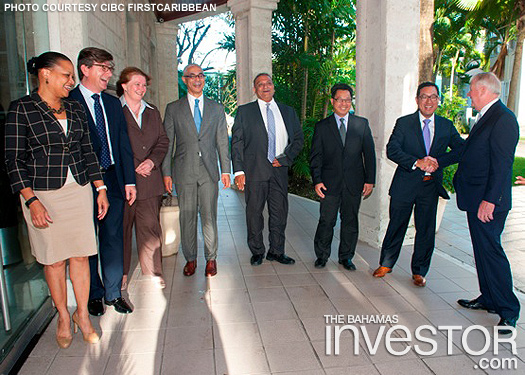 The new chief executive officer of CIBC FirstCaribbean, Gary Brown (at right), is greeted on arrival by some of the Barbados-based members of the bank's senior executive team in Bridgetown, Barbados, January 4, 2016. (Photos courtesy CIBC FirstCaribbean)