Source:
Date:
Updated:

Minsitry of Tourism
Wednesday, December 14, 2016
Wednesday, December 14, 2016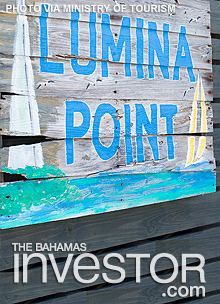 NASSAU, Bahamas, December 2016 (GLOBE NEWSWIRE) — Lumina Point, a small luxury boutique hotel, is located on a remote cay off Great Exuma in The Bahamas. This resort is eco-friendly and completed powered by solar panels.
Lumina Point features 12 rooms, a gym, spa, pool, restaurant, along with a pavilion for weddings and yoga overlooking its private beach. Jenny Kettel, general manager of the resort, said the hotel has been open since mid-February and there are plans to add 24 more rooms in the future.
Lumina Point is surrounded by a lush and unspoiled landscape of coppice forest. Guests can expect to be escorted from the Exuma airport and transported by boat to the private Stocking Island.

With 360 degree panoramic views of Exuma's electric blue waters, Lumina Point is a peaceful eco-resort for those looking to escape the fast-paced city life. Telephone 242.357.0999.