Havana, Jul 18 (Prensa Latina) – Tourism is supplying sources for business between Cuba and The Bahamas, as representatives from both countries took part in a two-day forum to identify new chances for trade and investments, meeting in Havana on Monday.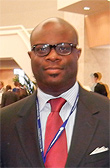 The forum found the multi-desination offers inside the Caribbean zone among the concrete possibilties, said Edison L. Sumner [pictured], executive director of the Bahamas Chamber of Commerce and Employers' Confederation, and the director of the Office for International Relations of the Cuban Chamber of Commerce, Celia Labora.
As Sumner evaluated, existing agreements between the chambers of commerce of two nations are useful in order to increase the exchange of goods and services and encourage the injection of capital for specific works.
"It is interesting to us to know the opportunities to invest in Cuba and that companies of this country could tackle similar initiatives in The Bahamas, constituted by more than 700 islands, keys and islets," he stated.
The official emphasized the favourable balance of cooperation in education and health and said that they are interested in expanding services to the population with the contribution of Cuban professionals.
Also he talked about making use of the Cuban experience in the restoration and conservation of the built-up patrimony, which would be profitable for the rehabilitation of historical areas in Nassau, the capital.
Meanwhile, The Bahamas might contribute with its knowledge in the conservation of the beaches, an aspect of common interest facing the sustainable development, the care of the ecosystems and the heyday of the tourist industry, he mentioned.
Agriculture, manufacture, audio-visual creations and renewable energies might contribute to the progress of the bilateral economic connections, he added.
At present, The Bahamas is the fourth commercial associate of Cuba inside the Caribbean Sea, but the area has further potential, Celia Labora evaluated.
In the last three years, the commercial bilateral exchange was worth under a million dollars a year, with a favourable balance for Cuba, the Cuban specialist stated.
As part of their mission in Havana, The Bahamas' delegation will have meetings with executives from different Cuban entities.
Labora remembered that another fundamental purpose is to look for solutions to strenghten the maritime and air connection between the Caribbean territories, and to strengthen the increase of trade and businesses.
Source: Prensa Latina.