Shane Gibson, the Minister responsible for Hurricane Relief and Restoration told the Chinese Ambassador that it was a miracle no lives were lost as the catastrophic Hurricane Matthew passed through The Bahamas.

He made the statement during a presentation of $50,000 by Huang Qinguo, the Chinese Ambassador to The Bahamas, during a ceremony at the National Emergency Management Agency, NEMA October 14, 2016.
Minister Gibson thanked the Chinese government for being one of the first countries to assist The Bahamas, in the aftermath of the storm, which peaked to a Category 4 packing winds of 140mph.
"We appreciate you being one of the first countries to assist us as in the past, and as we forge ahead with our relationship," Gibson said.
The Island of New Providence experienced a Category 3 Hurricane Matthew, which caused massive flooding and storm surge along the eastern and southern shorelines and inner cities of the island.
As a Category 4 storm, around 90 per cent of homes in Lowe Sound, Andros was destroyed and there was massive destruction along the coastline in West End, Grand Bahama as well.
The hub of the country, Nassau, was also severely impacted, said Gibson, adding that "it is nothing short of a miracle that we had no deaths. We are fortunate we suffered no causalities."
Gibson also acknowledged that NEMA did a wonderful job in alerting the public prior to the storm, but as some residents refused to evacuate their homes, they had to be rescued during the storm due to severe flooding in their areas.
Acknowledging that The Bahamas and China established diplomatic relations 19 years ago, Ambassador Huang said his country is pleased to offer assistance post Hurricane Matthew.
"China and The Bahamas are friendly partners and when you are in trouble, we respond quickly. When friends are in trouble, friends offer help," he said.
Ambassador Huang said the Chinese Embassy also suffered damage to its roof during the passage of Hurricane Matthew.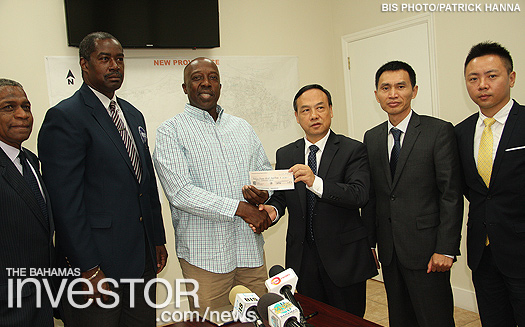 Pictured: The Chinese Embassy donates $50,000 during a presentation at NEMA October 14, 2016. From left: Jack Thompson, permanent secretary; Captain Stephen Russell, director, NEMA; Shane Gibson, the Minister responsible for Hurricane Relief and Restoration; Huang Qinguo, the Chinese Ambassador to The Bahamas; Wang Qingjun, counsellor, Embassy of the People's Republic of China, Bahamas; and Zhou Xiang, second secretary, Embassy of the People's Republic of China, The Bahamas. (BIS Photo/Patrick Hanna)