Baleària Caribbean has introduced a new vessel with larger capacity to replace the existing fast ferry on the daily service between Grand Bahama and Fort Lauderdale, Florida.
The Jaume 1 ferry arrived in Grand Bahama July 19, 2016 bringing some 500 passengers to Freeport Harbour. The ship has a capacity of 600, 200 more than its predecessor.
On hand to welcome the ship was permanent secretary of the Ministry for Grand Bahama Melvin Seymour, along with members of the Ministry of Tourism team, headed by Betty Bethel, director of Ministry of Tourism, Grand Bahama.

During a brief ceremony, there were plaque exchanges between the various stakeholders.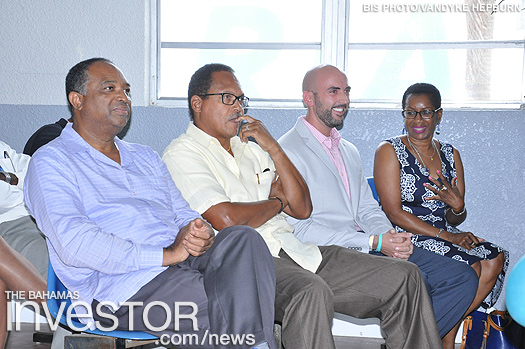 Pictured: (from left) Permanent secretary of the Ministry for Grand Bahama, Melvin Seymour; Russell Miller, chairman of the Grand Bahama Island Tourism Board; Mario Otero, chief operating officer, Balearia Caribbean; and Betty Bethel, director of Ministry of Tourism, Grand Bahama. (BIS Photo/Vandyke Hepburn)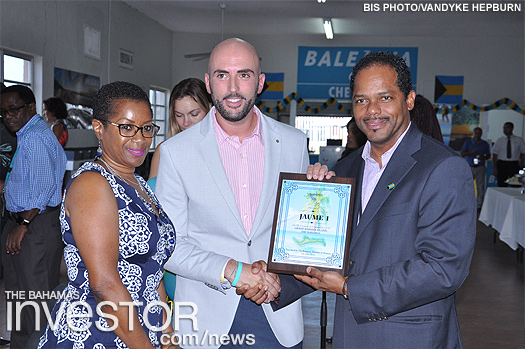 Bethel, Otero, and Nuvolari Chatoosingh of the Ministry of Tourism. (BIS Photo/Vandyke Hepburn)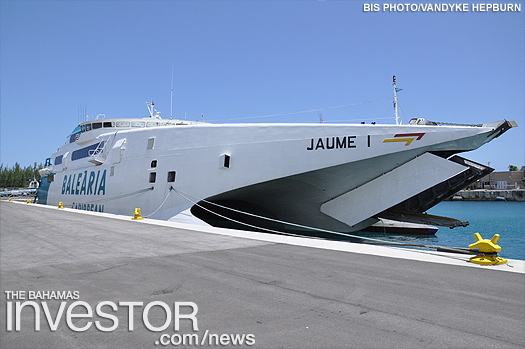 The new vessel Jaume 1. (BIS Photo/Vandyke Hepburn)