Barry University will honor Bahamian Attorney General and Minister of Legal Affairs Allyson Maynard Gibson February 19 with its Distinguished Alumni Award at a ceremony in Miami, Florida.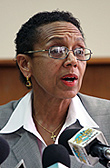 Maynard Gibson (right) is among seven Barry alumni to receive the honor, the highest granted by Barry to its graduates.

Held annually since 2007, Barry University's Distinguished Alumni Awards recognize Barry alumni for their distinguished professional achievements and contributions to society through service.
Maynard Gibson earned her Bachelor of Science in Business from Barry in 1975. At the age of 18, she was the youngest graduate in Barry's history at the time.