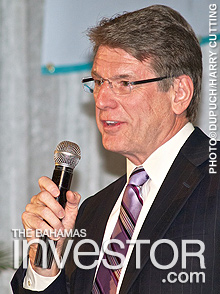 Pictured: Fred Lounsberry, CEO, Nassau Paradise Island Promotion Board speaking at the Small Island Developing States Conference on 20 Feb 2014. (Photo Harry Cutting/©Dupuch)
The head of the Nassau Paradise Island Promotion Board has highlighted the importance of using the Internet to understand what the tourism market wants, enhance the visitor experience and market The Bahamas to a new audience.
Chief executive officer of the tourist board, Fred Lounsberry, said 45 per cent of bookings to The Bahamas were done online, with customers also using the web to research their trip, plan activities and read reviews about the destination.
Speaking at the Small Island Developing States (SIDS) conference held in Nassau last week, Lounsberry said: "It is all about the Internet. It is an online world."
"We have to be active, up to date and technologically on top of it. Your website is fundamental to marketing. Mobile devices are the future; there is no question about it."

The Promotion Board is diligent about monitoring social media, according to Lounsberry, who said the association checks Facebook and other social networking sites daily to keep ahead of what tourists are saying about The Bahamas. He said knowing your customers and harnassing the power of online networking is key to success.
"Understand your target market," he told conference delegates. "You must embrace and master social networks. [They] are the new word of mouth. They are building your recommendations arsenal."
The Promotion Board has between 15 and 20 videos on its website, giving tourists a glimpse of the area, the hotels and shopping and dining facilities. Lounsberry said these videos are updated regularly.
"People want professional product videos. They want to see where they are going, where they are staying, what they can see and do. It is a planning tool, but it is also about getting people excited to travel."
The SIDS event opened last week at the Melia Resort on Cable Beach with a keynote address from Prime Minister Perry Christie. The conference welcomed government representatives and tourism experts from across the Caribbean to discuss such issues as sustainable development, environmental challenges, regional integration and innovation in the tourism product.
cmorris@dupuch.com