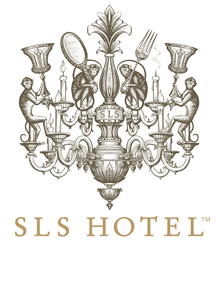 NASSAU, The Bahamas, (June 4, 2014) – Baha Mar, the $3.5-billion integrated destination gaming resort, and SLS Hotels today announced the signing of an agreement that will see SLS Hotels manage Baha Mar's 300-room luxury lifestyle hotel, including 107 residences.
SLS at Baha Mar will be the brand's first international venture, and will complement SLS' soon-to-open hotels and resorts in Las Vegas, New York, Philadelphia, Seattle, Brickell, Miami and China, as well as its signature hotels in Beverly Hills, California and Miami Beach, Florida.
SLS Hotels, which is a division of global hospitality company sbe, joins Baha Mar's portfolio of hotels, including Rosewood, Grand Hyatt and the Baha Mar Casino & Hotel, which will cater to an array of upscale international guests.
The 20-year management agreement will see the SLS Hotel at Baha Mar make its debut at the scheduled December 2014 opening of the resort.

"SLS will bring a spark of creativity and fun that fits in brilliantly with Baha Mar's distinctive array of brands and partners," says Sarkis Izmirlian, Baha Mar's chairman and chief executive officer.
"Sam Nazarian's ability to be ahead of market trends has differentiated his eclectic hotels, nightlife, restaurants and cutting-edge design and will bring a truly unique experience to Baha Mar guests. Also, the company's experience in creating, selling and managing luxury real estate properties will bring additional value to the SLS Residences at Baha Mar."
Sam Nazarian, founder, chairman and chief executive officer of sbe, says: "SLS at Baha Mar represents a collaboration of best-in-class hospitality partners led by Sarkis' unbelievable vision, and is a perfect fit with our core strategy of developing and managing luxury lifestyle hotels and residences aimed at higher-end leisure and business travelers. Baha Mar's stunning beach location and fully integrated master plan make it a breathtaking destination for sbe's global clientele, both for lifestyle entertainment and for an unrivaled residential experience."
Tom Dunlap, Baha Mar's president, says that SLS' award-winning hotels, restaurant and entertainment brands, including Cleo, with Danny Elmaleh's Mediterranean cuisine eatery, Japanese-fusion restaurant Katsuya by Starck and the Hyde Lounge nightclub, have built a singular, upscale profile for the company.
"SLS guests are exactly the kind of guests that will be attracted to Baha Mar: affluent, sophisticated, fun," he says.
"They live and play in the markets we most want to attract: Miami, Las Vegas, Latin America. We are thrilled to welcome SLS to Baha Mar."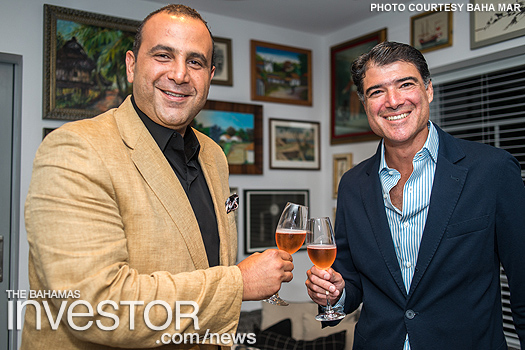 Pictured: Sarkis Izmirlian (right), chairman and CEO of Baha Mar, and Sam Nazarian, chairman and CEO of sbe and founder of SLS Hotels, celebrate the new partnership in Miami June 4, 2014. (Photo via Baha Mar)