Source:
Date:
Updated:

Silver Airways
Wednesday, April 9, 2014
Wednesday, April 9, 2014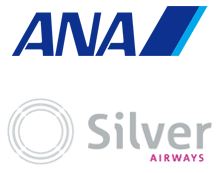 FORT LAUDERDALE, Fla., April 8, 2014 (GLOBE NEWSWIRE) — Silver Airways, which offers more service between Florida cities than any other airline and more flights between Florida and The Bahamas than any other U.S. airline, and All Nippon Airways (ANA), Japan's leading airline group, this week introduced their interline ticketing partnership allowing travelers to easily connect between the carriers' networks.
Under the agreement, travelers will be able to purchase a single ticket for flights between Japan, China, Korea, and much of the Far East via ANA, its codeshare partners and Silver Airways to points throughout Florida and The Bahamas. By booking single-ticket trips and combining flights on multiple carriers, customers also benefit from one-stop check-in and baggage check when they transfer between the airlines.

"As we continue to develop and expand our interline and codeshare ticketing capabilities, we look forward to All Nippon becoming our seventh airline partner," said Silver Airways Vice President of Revenue Management Randy Laser. "This ticketing partnership allows us to bring even more destinations within reach of customers, allowing travelers to easily connect between multiple airline networks."
In less than a year since it launched its own website and stand-alone Sabre reservations system, Silver has continued to expand its diverse and growing portfolio of partnerships to include interline agreements with American Airlines, Bahamasair, Delta Air Lines, JetBlue, and US Airways, as well as international interline ticketing capabilities with overseas airline partner Hahn Air, and now All Nippon Airways. These new partnerships are in addition to Silver's longstanding codeshare and frequent flyer partnership with the world's largest airline, United Airlines.
About Silver Airways
Silver Airways Corp. (IATA: 3M) is a U.S. owned and operated airline operating approximately 170 daily scheduled flights to/from 38 destinations in Florida, Bahamas, Georgia, Alabama, Mississippi, Ohio, New York, Pennsylvania, West Virginia, Virginia and Washington, D.C. The airline, which offers more flights within Florida to the Bahamas than any other U.S. airline, has valued partnership and codeshare agreements with United Airlines and interline agreements with American Airlines, Bahamasair, Delta Air Lines, JetBlue, US Airways, Hahn Air and All Nippon Airways.
Silver is a 2013 two-time award winner, having been recognized by its industry and the traveling public. In February 2013, it was named the recipient of Air Transport World's (ATW) 2013 Regional Airline of the Year Award, the first U.S. airline to win regional aviation's top honor since 2008. This award recognized Silver's outstanding achievements, as well as the company's contributions toward elevating the entire regional aviation industry overall. In October 2013, Silver was named one of the Top 10 "Best U.S. Airlines" in the prestigious Condé Nast Traveler's 26th annual 2013 Readers' Choice Awards.
The Silver fleet is comprised of Saab 340B Plus aircraft (with a capacity of 34 passengers in a spacious, noise reduction equipped cabin), each powered by highly reliable, fuel-efficient GE jet-turbine propeller engines. The airline also operates Beechcraft 1900D aircraft (maximum seating capacity of 19 passengers) in the airline's Cleveland network.
The company is privately owned by Victory Park Capital, a Chicago-based investment firm that launched the airline in May 2011.
Visit Silver Airways at www.silverairways.com.
About ANA
All Nippon Airways (ANA) is the ninth largest airline in the world by revenues (2012) and the largest in Japan by passenger numbers (2012). Founded in 1952, ANA flies today to 31 international destinations and 50 domestic cities with a fleet of 232 aircraft serving a network of 175 routes. ANA has 14,000 employees. In 2012, it carried 45 million passengers and generated revenues of $15.8 bn. ANA has been a core member of Star Alliance since 1999 and has joint-ventures with United Airlines on trans-Pacific and Asia routes and with Lufthansa, Swiss International Airlines and Austrian Airlines on Japan-Europe routes. Its Frequent Flyer Program, ANA Mileage Club, has more than 24 million members. ANA was voted Airline of the Year for 2013 by Air Transport World Magazines, and was awarded five stars by the world's leading Airline and Airport review site, SKYTRAX. ANA is the launch customer and biggest operator of the Boeing 787 Dreamliner.