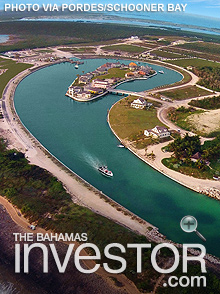 Pictured: Schooner Bay development, Abaco, The Bahamas. Click the photo or click here to see the photo full sized. (Photo courtesy Pordes Residential Sales & Marketing/Schooner Bay)
MIAMI, FL. March 31, 2014 –(Marketwired) – The Abaco Islands in the Bahamas are alive with new activity and becoming a new hub for tourism throughout the entire island chain.
At the center of the action on Great Abaco Island is Schooner Bay, a revolutionary, sustainable real estate development that implements eco-friendly methods of building and community living. Right now, buyers are being offered the chance to purchase land and build a unique home in one of the most tranquil locations. In addition to those looking to buy a home, those looking for the perfect, relaxing getaway, can now visit Schooner Bay as a guest, whether it is for a weekend or a week, as part of the new "Discovery Visit" program which allows for rental of a 2, 3 or 4 bedroom cottage.

"If you have not been to the Abaco Islands yet, you are missing out," said Mark Pordes, CEO of Pordes Residential which is in charge of sales and marketing at Schooner Bay. "If you are looking for a one-of-a-kind place to live or visit, this is it. Aside from the gorgeous ocean and clear skies, there are so many activities to participate in from yoga to paddle boarding, eco-tours, snorkeling or taking advantage of some of the best fishing in the world. The Abaco Islands have it all."
Aside from the enticing, pristine waters of the Atlantic Ocean and the farm to table food offered on site from the Lightbourn Farms hydroponic garden, Schooner Bay is inviting for so many other reasons as well. The Bahamas National Trust field office is on site at Schooner Bay and is used by researchers involved in field work in Abaco National Park. The 20,000 acres that make up the park are home to the Bahama parrots, West Indian woodpeckers, Bahama swallows, yellow throats and many more unique and protected species. The park is easily accessible and is a big tourist attraction.
Big changes are also happening all around Schooner Bay. Marsh Harbour is the third largest town in the Bahamas and it acts as the island's hub for transportation, government and medical services. It also offers a new port facility that serves both as a shipping center and a port of entry for vessels arriving from international ports. In addition, the Abaco Community Health Care Center is opening this year along with a new terminal at the international airport that will allow for more daily flights from major cities in the U.S. including Orlando, West Palm, Fort Lauderdale and Miami. Within the next few months, additional major cities will be added.
"There are so many big changes happening and we welcome them all. It's an exciting time to be involved in such an incredible project in Great Abaco," said Pordes.
In the desire to communicate the uniqueness and greatness of Abaco, Schooner Bay has created a new publication, Southern Abaco Living Magazine, which will highlight all things happening in and around the island. The magazine is being written and designed by Cotton & Company, a real estate advertising and marketing firm based in Stuart, Florida.
"Schooner Bay is destined to become a favorite getaway for those seeking an authentic island experience," said Stephann Cotton, President and CEO of Cotton & Company. "The area of South Abaco is so rich in history and places of interest, the magazine will be full of stories that depict what an incredibly unique and beautiful place it is."
ABOUT PORDES RESIDENTIAL SALES & MARKETING
Pordes Residential Sales & Marketing sells, markets and invests in unique residential condominium opportunities. The company has globally marketed Florida luxury condominiums, including Canyon Ranch Living Miami Beach and One Bal Harbour. The company works with developers and third-party lenders to reposition residential projects. Outside of Florida, the firm partners with developers in Las Vegas and the Caribbean.