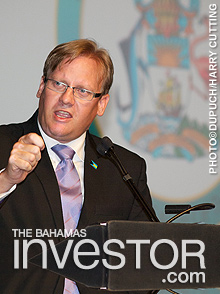 Pictured: Minister of Financial Services Ryan Pinder speaking at the Atlantis Resort on Paradise Island. (Photo Harry Cutting/©Dupuch)
The diversity of product offerings in the Bahamas' financial services sector will help insulate the jurisdiction against market volatility and increasingly burdensome regulation, Minister of Financial Services Ryan Pinder told attendees at the Society of Trust and Estate Practitioners (STEP) Caribbean Conference today.
In his address, the Minister said one of the biggest challenges facing The Bahamas, and other Caribbean international financial centres (IFCs), is the move towards a global standard of automatic exchange of information. He indicated that jurisdictions needed five key elements to ensure growth in the face of pressure from multilateral bodies concerned with transparency: independence and sovereignty; a sound reputation; new product development; sustained engagement with the international community; and diversity of offerings.

"In order for the financial services industry to advance, the industry itself must transform," he told conference delegates at Atlantis Paradise Island. "Having financial centres that are full service offerings is imperative to our preservation and imperative to growth."
"The Bahamas prides itself on having diversified operating entities in all sectors of the financial services industry [and] a clear focus on diversifying through service providers in our country."
Minister Pinder said that The Bahamas has already seen "considerable growth" from broadening its range of services. The number of funds registered in The Bahamas grew by 50 per cent from 2012 to 2013 and the number of captive entities in the country increased by more than 60 per cent over the same period.
In addition to diversifying, countries must also focus on product innovation, said Pinder, who highlighted the success of The Bahamas' SMART Fund model in Latin America.
"Product innovation is fundamental," he said. "New product development is key to expanding opportunities."
"I think we have a bright future, but we have to have a future based on engagement, innovation and being nimble and responsive to the changing world environment."
cmorris@dupuch.com