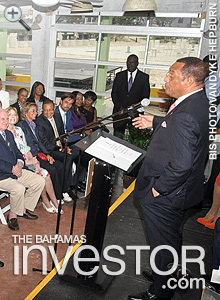 Pictured: Prime Minister Perry G Christie addresses attendees of the opening of Memories Grand Bahama Beach and Casino Resort March 24. Click to see the full sized photo. (BIS Photo/Vandyke Hepburn)
Prime Minister Perry Christie said this week that he is in discussions with the operators of the Freeport Container Port, with a view to a possible $250 million expansion of that multi-million dollar facility.

The Prime Minister was participating in the opening of the Memories Grand Bahama Beach Resort and Casino March 24.
Christie said as his government is resolute on the revival of the Grand Bahama economy, advancing tourism and focusing on the industrial and other related sectors of the broader economy.
"I am pleased to confirm that positive conversations have taken place between me and my representatives, the principals of Hutchison, MSC Shipping and the Grand Bahama Port Authority on a $250 million expansion of the Freeport Container Port," he said at the opening event.

"Representatives of government and the other parties are steadily working on the terms of a Memorandum of Understanding, having engaged in fruitful discussions over the past weekend."
"The Memorandum of Understanding will be placed before my Cabinet for final approval in short order, with a view to construction getting underway this summer," the Prime Minister stated.
He pointed out that this major expansion is expected to result in some one million additional containers passing through Freeport annually.
Furthermore, he said the initiatives being taken by his government are designed to grow other existing businesses, to attract major new investments and value added enterprises to Grand Bahama, all of which will have a spin off effect within the Grand Bahama economy, creating many new entrepreneurial and employment opportunities.
Christie also told the gathering that in preparation for these opportunities, he is calling upon the Grand Bahama business community to forge a partnership with the government in its national training programme, so as to equip as many Bahamians as possible with the necessary skills to efficiently meet the demands which will be created for the many new jobs in various fields.
He drew attention to the fact that many other Caribbean countries are looking at increasing or starting up container port operations, particularly with the expansion of the Panama Canal soon to be completed.
Focusing on the refurbished Memories Grand Bahama Beach and Casino the Prime Minister said it signals a real renaissance in Grand Bahama's tourism sector.
Christie also told attendees that starting May 1 through October 31, 2014, in partnership with Vacation Express, the US-based arm of Sunwing Vacations, Bahamasair will operate nonstop Boeing 737-400 jet services from eight US gateways, namely: Baltimore, Birmingham, Cincinnati, Columbus, Memphis, Newark, Raleigh/Durham and Richmond.
He said the level of investment Sunwing is taking in this venture is a great demonstration of confidence in the government and people of The Bahamas.
Also, the Prime Minister advised that with the opening of Memories, the fast ferry operator Balearia has been inspired to increase both capacity and frequency with a boost in capacity to some 259,000 seats in 2014/15 almost tripling their capacity from the previous base of some 84,000 seats.
"It is a conservative estimate that the Balearia will generate some 47,000 new visitor nights, generating an additional $18 million in tourism spending in the Grand Bahama Island economy."
"It is therefore reasonable to project a return of not less than $72 million resulting from our intervention to turn around Grand Bahama tourism," the Prime Minister said.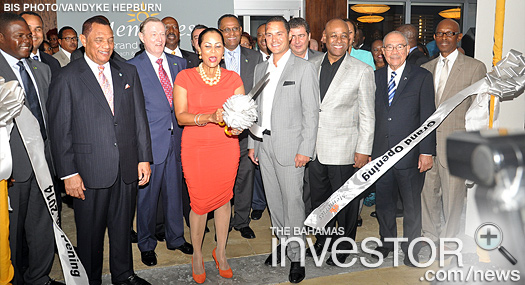 Bernadette Christie, wife of Prime Minister Christie, cuts the ceremonial ribbon to officially open the almost 500-room Memories Grand Bahama Beach Resort and Casino March 24. (BIS Photo/Vandyke Hepburn)