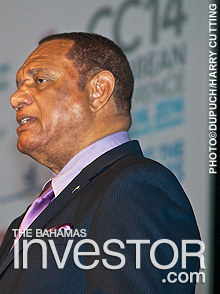 The Bahamas' financial services industry is "at a crossroads", according to Prime Minister Perry Christie, who believes the future of the sector lies in innovation, creativity and regional co-operation.
Addressing the Society of Trust and Estate Practitioners (STEP)'s annual Caribbean Conference today, the Prime Minister said: "We meet at a time when the financial services industry is at a major crossroads. The global financial crisis and the ensuing slow recovery has left an uneasy equilibrium."
Christie spoke of the burden of international regulation, such as the US's Foreign Account Tax Compliance Act (FATCA), as well as "ever present domestic challenges" as some of the obstacles facing the sector. but added that he remained optimistic in the long term.

"There are new opportunities for co-operation," he told delegates at the conference held at Atlantis Paradise Island. "It is really only through joint effort that we will be able to meet our fundamental goal. I'm convinced that the future is bright."
The Prime Minister said that The Bahamas had to "move to a new growth paradigm" and "towards activities which add significant value to our clients."
"We are re-examining what we do and how we do it. The Bahamas is taking stock and promoting the depth and width of financial services."
Arbitration services, yacht and airplane registries and branching out into new markets are part of the industry's strategy for the future, according to the Prime Minister, who praised the work of the Bahamas Financial Services Board (BFSB) in building links with Latin America and China. The latter destination will be the focus of a new BFSB campaign at the end of this year.
"The possibilities are endless, however it requires the smartest and most creative minds taking bold action, supported by government policy," said Christie.
The STEP conference runs 12-14 May. The theme this year is 'Exploring the Possibilities' and additional speakers include Minister of Financial Services Ryan Pinder.
cmorris@dupuch.com