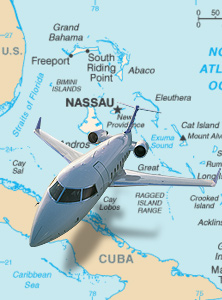 NEW YORK, NY (December 2014) – Elite Traveler Magazine has just reported the top 10 destinations to enjoy the benefits of private jet charter flights during last year's peak winter season which resulted in revenues of $867 million from 12,566 flights.
Nassau in The Bahamas, St Maarten and Turks and Caicos lead the way accounting for half of those flights with 6,922 arrivals and spending of nearly $478 million, according to private jet charter operator PrivateFly's analysis of flight activity to the Caribbean.
"Elite Traveler Magazine tracks the jet stream of the super rich and chronicles the vacations and purchasing habits of affluent travelers across the world," notes Douglas D Gollan, group president and editor-in-chief.
"We continue to see the Caribbean as one of the preferred destinations for our readers, especially those traveling by private jets and mega-yachts."

According to figures supplied by PrivateFly from WINGX, there were 12,566 charter flights to the 10 busiest Caribbean airports alone from November 2013 to April 2014, the high season for Caribbean travel. Based on data from Prince & Associates showing that private jets bring an average of $69,000 in spend to the destinations they visit (excluding fuel and landing fees), private jet travelers brought some $867 million in spending to the destinations where the top 10 airports were located.
Carol Cork, PrivateFly's marketing head notes that charter is only about one-third of private jet activity–the rest being owned jets and fractionally owned jets, so more likely elite travelers will again bring billions of dollars in spending to the Caribbean in the coming months.
The top destination was Nassau where private jet charter fliers alone brought $278 million.
St Maarten is often a stopping off place for St Barts, a popular villa destination and pick-up location for super-yachts. Elite travelers drove $104 million in revenue to the island.
Providenciales on Turks & Caicos gained $94 million from ultra-high-net-worth families arriving by private jet.
Earlier this year a private Boeing 727 with a family of 20 from Nebraska arrived to spend 10 days at Beaches Resort, according to Cork.
Luis Munoz Marin Airport in San Juan, one of four private jet airports serving Puerto Rico was the gateway for $88 million to enter the territory's economy.
Abaco in The Bahamas followed with elite travelers generating some $64 million for the economy with St Thomas following at $56 million. Bermuda, North Eleuthera, Anguilla and Cayman followed.
"When one considers the above numbers represent only 33 to 50 percent of total private aviation activity to the region and only the 10 busiest airports, it shows the huge opportunity for destinations and resorts to increase their share of super rich winter travel spending," Gollan said.
"During Caribbean Week in New York earlier this year Sarah Wescot-Williams, then Prime Minister of St Maarten, recalled how the crew of a mega-yacht spent $10,000 on flowers as they prepared the boat for the owner's private jet arrival. Also in St Maarten, a tourism official noted that a family renting a villa spent some $40,000 on flowers."
In another story of high spending, Roxanne Genier, former super-yacht crew and now luxury market consultant, described how on a rainy day the owner of the super-yacht she was working on popped off for some quick shopping and returned with a $200,000 bracelet.