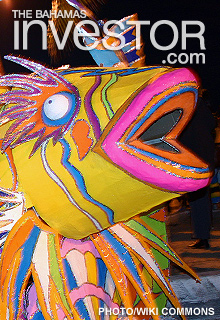 Junkanoo is a street parade with music which occurs in many towns across The Bahamas every Boxing Day (December 26) and New Year's Day. (Photo via Wiki)
In celebration of the 50th anniversary of the Ministry of Tourism, Prime Minister Perry Christie has declared 2014 as the Year of Culture since culture is so prevalent in tourism offerings.
The Ministry of Tourism will commence the celebration of the Golden Jubilee of the Promotion of Tourism Act in a national service of thanksgiving tomorrow.
Established by an Act of Parliament, the Promotion of Tourism Act gave birth to the modern Ministry of Tourism. The act came into force in 1964, replacing the Tourism Development Board as the principle promotional and branding agency for The Bahamas.
The Promotion of Tourism Act provided for the appointment of a Minister of Tourism, a corporate structure and a budget with the mandate to aggressively promote tourism internationally. This new strategy is credited with catapulting The Bahamas from a mere winter destination to international prominence as one of the premier year-round tourism destinations in the world.

The Bahamas achieved a celebrated milestone when tourism expenditure eclipsed the one billion dollar mark for the first time in 1986 and the country has not looked back ever since.
Today, tourism accounts for more than 60 per cent of the nation's economy and jobs and continues to dominate the economic landscape of The Bahamas.