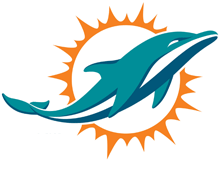 The Miami Dolphins Legends hosted a Weekend in The Bahamas, showcasing a partnership with the tropical islands, complete with Hall of Fame quarterback Dan Marino in attendance. The Bahamas will serve as the official island destination of Miami Dolphins Legends in a newly launched, five-year deal. Marino, along with 11 Dolphins greats, enjoyed a weekend packed full of golf at the Ocean Club at Atlantis, a sunset cruise and a youth clinic hosted by the Miami Dolphins Alumni and Dolphins Academy.
"This partnership is mutually beneficial for all the Dolphins fans we have eager to visit this island paradise as well as all the Dolphins fans we have in The Bahamas looking to connect with our team in Miami," said Miami Dolphins President & CEO Tom Garfinkel. "We're delighted Dan Marino and the Miami Dolphins Legends can bridge our two communities in such a meaningful way."

Pro Football Hall of Fame inductee and former Dolphins quarterback Dan Marino said, "The support I have received in The Bahamas from the vast array of Dolphins fans made this deal twofold in serving both the Miami fans eager to travel to The Bahamas and the Bahamian football fans fully supportive of the team I hold dear."
Click here to see a photo gallery from the source of this post.
"The people of The Bahamas and residents of Miami have had an outstanding relationship for decades. The Bahamas government is thrilled with the partnership it has established with the Miami Dolphins, a team that is very much loved and admired by the Bahamian people," The Bahamas Minister of Tourism Obie Wilchombe said. "We are equally excited that the alumni and friends of the Dolphins can now experience firsthand the warm hospitality of our people, the natural beauty of our 700 islands chain, our sportsmanship and the diversity of our culture in a country less than 55 miles away from their home."
This year's event will become an annual tradition and additional experiences to expand the partnership include a fishing event as well as a flag football game of Dan Marino and the Dolphins Alumni Legends versus top officials of the Bahamian Government at the Thomas A Robinson National Stadium.
The agreement calls for a "Bahamas Bash," with Sun Life Stadium hosting themed sections on game days. The Bahamas will have in-stadium exposure as well as digital and traditional media as part of the deal. In addition, the Miami Dolphins' signature event – Fins Weekend, which raises funds for the Miami Dolphins Foundation – will host Bahamian-themed parties.
This is an excerpt from Official Website of the Miami Dolphins as it appeared on June 2, 2014. For updates or to read the current version of this post in its entirety, please click here.

Continue reading this post >