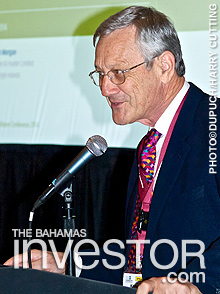 Pictured: Kenneth Morgan, Rawlinson & Hunter Ltd, British Virgin Islands speaking at the Society of Trust and Estate Practitioners (STEP) CC14 Caribbean Conference. (Photo Harry Cutting/©Dupuch)
Against a backdrop of increased regulation and a greater burden of compliance, building client relationships in the financial services market has become more difficult according to Kenneth Morgan, chief executive of law firm Rawlinson & Hunter.
Speaking at the Society of Trust and Estate Practitioners (STEP) Caribbean Conference this week, Morgan said: "We are in a difficult and dangerous world today. Clients need a new service from their professional advisors."
He advised practitioners to be available to clients, to deal directly with them where possible and to keep in touch face to face whenever possible.
He also emphasized the importance of good staff to help sustain the relationship saying: 'It is essential to have good support people who have client empathy."

Other key components to a mutually beneficial client provider relationship are being proactive and responsive, according to Morgan, who urged financial services professionals to know their area, keep up to date with current legislation and be well-informed, so they can offer timely, well-researched advice when necessary.
The STEP Caribbean Conference took place at Atlantis Paradise Island May 12-14 with the theme: Exploring the Possibilities. Speakers at the event included Prime Minister Perry Christie, former Attorney-General Sean McWeeney and Minister of Financial Services Ryan Pinder.
cmorris@dupuch.com