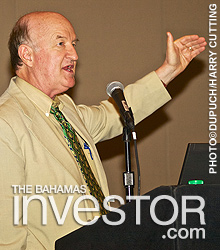 The Global Financial Summit opened last week at Atlantis Paradise Island, with the conference's founder telling attendees that, despite some volatility, there are opportunities in the markets for savvy investors.
While the stock market may still be recovering from the 2008 global financial crisis, there are still areas of growth according to economist Mark Skousen, who advised investors to explore M&As.
"We are moving towards a bear market in 2014. The slowdown is going to continue," he said. "[However] Merger and acquisition activity is going to really pick up. It is starting to make a come back and 2014 will see a lot of M&As."

In light of this, he encouraged traders to invest in private equity stocks that specialize in buyouts and buy-ins, saying: "Private equity is still a relatively unknown area [but] the performance is just tremendous."
The Global Financial Summit ran February 5-8 and speakers at the event included: Steve Moore, member of the Wall Street Journal editorial board; Peter Schiff, president of Euro Pacific Capital; and author and financial journalist James Grant.
In addition to speaker presentations, the conference also offered breakout sessions in which attendees could get advice on various topics from investing in The Bahamas to protecting their portfolio.
cmorris@dupuch.com