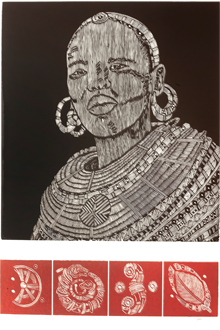 Pictured: Omar Richardson—Bahamas. "Personal Language" (Lenguaje Personal), 2011. Color woodcut, 41 1/2 x 29 1/2 inches. (Inter-American Development Bank Art Collection/©Omar Richardson)
The Inter-American Development Bank (IDB) presents the exhibition "FLOW: Economies of the Look and Creativity in Contemporary Art from the Caribbean." This exhibit will be open to the public from June 9 to August 29, 2014 at the IDB Cultural Center Art Gallery in Washington, DC.
The exhibition displays works by 27 artists from various countries including Aruba, The Bahamas, Barbados, Cuba, Dominican Republic, Guadeloupe, Guatemala, Guyana, Haiti, Jamaica, Panama, Puerto Rico, Trinidad and Tobago and Suriname represented in the IDB's Art Collection as well as art loaned to the exhibition by private collectors, art galleries, and from the artists themselves. The exhibit was curated by art historians Elvis Fuentes (former curator of Museo del Barrio in New York) and Meyken Barreto. The exhibition explores the way in which creative popular expressions, often dismissed as minor arts, are employed by Caribbean artists to critically comment on today's image-driven cultures.

For the curators, the term "FLOW" highlights one of the most important trends in the Caribbean's contemporary visual culture: the appropriation of elements of popular culture in relation to the economies of "the look," which foster concepts of embellishment and image-making throughout the region and its diaspora.
Changes in the global economy have significantly impacted the Caribbean in recent years, and Caribbean artists have been affected by these dramatic economic and social trends. FLOW offers a visual review of the dynamic stages of the creative economy (popularly known as the "Orange Economy") — in terms of entertainment, fashion, beauty pageants, body modifications and cosmetic surgery, as well as in related industries, such as professional sports and music. The Caribbean's aesthetic diversity is reflected in the works of the region's most outstanding contemporary artists, many of which are presented in this unique exhibition.