Source:
Date:
Updated:

BNY Mellon
Wednesday, April 30, 2014
Wednesday, April 30, 2014


NEW YORK, April 30, 2014 /PRNewswire/ — BNY Mellon, a global leader in investment management and investment services, has been appointed registrar, fiscal agent, paying agent and transfer agent for the Government of the Commonwealth of The Bahamas' $300 millionbond issuance.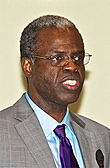 "We chose to work with BNY Mellon on this transaction because of their commitment to the Caribbean region and expertise in servicing sovereign debt issuances," said John Rolle (right), Financial Secretary of the Government of the Commonwealth of The Bahamas.

"We are seeing an increase in investor interest in the Caribbean region, especially in government-backed financings," said Sonia Chaliha, head of sales and relationship management for Latin America and Canada for BNY Mellon Corporate Trust. "As one of the world's leading corporate trustees, we have deep experience in helping to administer government-sponsored issuances. We are well-positioned to support the Government of the Commonwealth of The Bahamas with this offering, which aims to stimulate economic activity in the region."
As of March 31, 2014, BNY Mellon Corporate Trust served as trustee and/or paying agent on more than 65,000 debt-related issues globally. Its clients include governments and their agencies, multinational corporations, financial institutions and other entities that access the global debt capital markets. The corporate trust business utilizes its global footprint and expertise to deliver a full range of issuer and related investor services and to develop customized and market-driven solutions. Its range of core services includes debt trustee, paying agency, escrow and other fiduciary offerings.
Corporate trust providers are appointed by corporations, municipal governments and other entities issuing debt to perform a variety of duties, including servicing and maintaining the debt issue, processing principal and interest payments for investors, representing investors in defaults, and providing value-added services for complex debt structures.
BNY Mellon is a global investments company dedicated to helping its clients manage and service their financial assets throughout the investment lifecycle. Whether providing financial services for institutions, corporations or individual investors, BNY Mellon delivers informed investment management and investment services in 35 countries and more than 100 markets. As of March 31, 2014, BNY Mellon had $27.9 trillion in assets under custody and/or administration, and $1.6 trillion in assets under management. BNY Mellon can act as a single point of contact for clients looking to create, trade, hold, manage, service, distribute or restructure investments. BNY Mellon is the corporate brand of The Bank of New York Mellon Corporation (NYSE: BK). Additional information is available on www.bnymellon.com, or follow us on Twitter @BNYMellon.