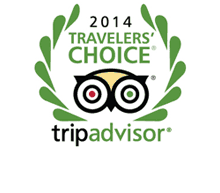 ELEUTHERA, Bahamas, Jan. 28, 2014 /PRNewswire/ — The Cove, Eleuthera Resort and Spa has been named a winner in the Top Caribbean Hotels category in the 2014 TripAdvisor Travelers' Choice® awards, ranking #5 out of 25.
Travelers' Choice award winners were selected according to the reviews and opinions of millions of TripAdvisor travelers around the globe.
The Cove, Eleuthera is also ranked #1 of 14 hotels on the island and has been rated "excellent" by 131 travelers. For reviews of The Cove, Eleuthera, click here.

The Cove, Eleuthera opened on March 1, 2013 and has enjoyed rave reviews ever since. The 45-acre property offers guests the ultimate luxury experience whether they are staying in a three-bedroom villa complete with private staff or an oceanfront suite only steps from the turquoise water of the Caribbean. The gated resort offers two private pink sand beaches, four dining options including Freedom Restaurant and a new gym and spa. Guests can fly to Eleuthera in just 45 minutes from Ft. Lauderdale aboard The Cove Express, the resort's exclusive charter for hotel guests. Commercial flights are also available.
For reservations: Phone: 888-776-3901; Email: info@thecoveeleuthera.com; website: thecoveeleuthera.com