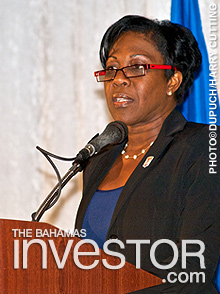 Pictured: Jeanne Rogers-Vanterpool, Commissioner of Tourism, St. Martin speaking at the Small Island Developing States Conference on 20 Feb 2014. (Photo Harry Cutting/©Dupuch)
Co-operation and integration are key to developing the Caribbean's tourism product and ensuring greater visibility for the region as it attempts to target new markets. This was the message from a panel of sector leaders who met in Nassau last week for the Small Island Developing States (SIDS) conference.
According to figures from the United Nations World Tourism Organization, international tourist arrivals to the Caribbean are expected to rise 3.3 per cent by 2030 to reach 1.8-billion visitors. The question posed at the SIDS event was how to grow that market share through greater collaboration.
"How do we make sure our market share continues on an upward trend?" asked St Martin's Commissioner of Tourism Jeanne Rogers-Vanterpool. "How do we remain competitive in the face of the new emerging destinations?"

Rogers-Vanterpool suggested that the answer lies in integration, saying that St Martin had seen success co-hosting events and conferences together with other countries in the region. These events can attract new clients and open up new markets, she said.
"We provide a little more than the regular sea and sun. The way forward in the short and medium term is in practical alliances, building partnerships is a win-win scenario."
"The smaller islands must find solutions that will allow us to pool our resources for greater efficiency. It can be a vehicle for greater power in the market and create new business opportunities and jobs."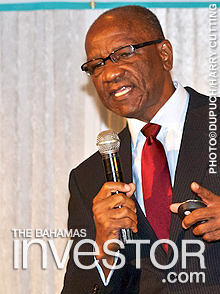 Pictured: Donald Charles, General Manager, Antigua & Barbuda Development Bank & Chairman, Association of Development Bank of the Eastern Caribbean speaking at the conference. (Photo Harry Cutting/©Dupuch)
Fellow panelist Donald Charles, chairman of the Association of Development Banks of the Eastern Caribbean agreed and suggested that a multi-destination marketing platform was needed to give the region greater visibility, particularly online through mobile apps.
He spoke of branding the Caribbean as "a special place of diverse beauty, stress-free and unpolluted" before explaining that mobile apps could reach a whole new generation of potential clients. "By using travel apps, we can get directly to this tremendous market."
Donald said Caribbean states need to be innovative and refine their tourism product.
"We cannot be afraid of competition," he told conference attendees. "We cannot be complacent. We have to step up our game. We have to cherish and nuture what we have [and] provide value for money and superior service."
"We need to get focused and use competition to challenge us to take it to the next level."
cmorris@dupuch.com