Source:
Date:
Updated:

HG Christie Ltd
Monday, April 28, 2014
Monday, April 28, 2014

Nassau, Bahamas (PRWEB) – HG Christie Ltd. CEO, John Christie, and Douglas Johnson, Managing Director, CBRE Auction Services, announce that the Big Grand Cay Archipelago Estate located in the northern Bahamas will be sold at auction May 14th, 2014. The ±277-acre opportunity includes Big Grand Cay, Bakers Cay, Sandy Cay, Mermaid Cay, Rat (Seahorse) Cay, Spongers Cay, Felix Cay, an unnamed cay and three small rocks. Big Grand Cay features a 4-bedroom and 5-bathroom vacation home with saltwater swimming pool, expansive decks overlooking tropical beaches, a deep-water dock, an ocean villa, inland villa and caretaker's quarters. The exclusive private Bahamian estate has hosted many notable guests including President Richard Nixon and his family. The online auction will be held on May 14th, 2014. The suggested opening bid is $1,950,000.

"The Big Grand Cay Archipelago is an extremely rare offering, not only in The Bahamas, but anywhere." urges John Christie, CEO of HG Christie. "The potential of this captivating estate holding is endless. It is a tremendous opportunity, in a world-class location, where owners have the opportunity to create an incomparable private retreat, or take advantage of the easy access to top fishing grounds, coral reefs PLUS offer the exclusive appeal of private island relaxation for the ultimate resort destination."
Located in a small group of cays known as The Grand Cays, in the northwestern Abaco Chain of Cays, sits at a point approximately ±50 north northeast of Freeport Grand Bahamas, in the Commonwealth of the Bahamas. Located a quick boat ride from Walker's Cay, a legendary fishing destination in itself, the Big Grand Cay Archipelago Estate proffers tropical coral reefs ideal for snorkeling and ocean scuba diving in deep blue waters teeming with sport fish such as blue marlin, wahoo, grouper, dolphin, snapper and more. The Grand Cays have an established reputation for unparalleled world-class fishing.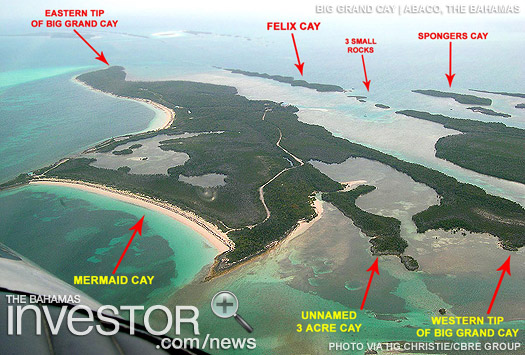 This 'Estate Directed Auction' includes ±115 acres of freehold interest and ±162 acres of leasehold interest thru March 2057. At the heart of this auction opportunity is Big Grand Cay; featuring ±50 acres of freehold interest inclusive of a 4 bedroom/5 bath main vacation home with numerous amenities inclusive of a sea plane ramp, natural harbour and various storage/utility structures.
"This is a unique opportunity for an investor or developer to acquire a spectacular property with fantastic ocean views, deep water access, in a tropical setting," said Patrick Connell, Managing Director, CBRE Auction Services. "Situated just a quick boat ride from Walkers Cay, the Big Grand Cay Archipelago is a true tropical paradise with endless sunsets and beautiful sandy beaches."
The online auction will open with bidding at $1,950,000. An initial bidding registration deposit of $150,000 is required in order to bid at the auction. The online auction will be held on May 14th, 2014. Property inspections will be held by appointment only. CBRE is working in cooperation with HG Christie, Ltd., a leading Bahamian Broker and the Exclusive Christie's International Real Estate affiliate for The Bahamas, on the sale of this property at auction. Representatives from each company will be available to answer questions about the auction process, procedures, as well as the property. Detailed property information will also be available for review including the purchase and sale agreement. For this, and other information about the auction, including the terms and conditions of the auction and a brochure, prospective bidders should visit cbre.com/auctionservices , or call CBRE Auction Services at 800-815-1038. HG Christie Ltd. CEO, John Christie, can be reached viahgchristie.com or at 242-322-1041.
About CBRE Group, Inc
CBRE Group, Inc. headquartered in Los Angeles, is the world's largest commercial real estate services and investment firm (in terms of 2013 revenue). The Company has approximately 44,000 employees (excluding affiliates), and serves real estate owners, investors and occupiers through approximately 350 offices (excluding affiliates) worldwide. CBRE offers strategic advice and execution for property sales and leasing; corporate services; property, facilities and project management; mortgage banking; appraisal and valuation; development services; investment management; and research and consulting. Website: cbre.com
About HG Christie Ltd
HG Christie is a full service real estate company in the Bahamas offering sales, rentals, appraisals, and property management. Founded in 1922 by the legendary Sir Harold George Christie, HG Christie is the Exclusive Affiliate of the prestigious Christie's International Real Estate network, the Real Estate arm of the renowned Christie's art auction house. The company is known as "The Trusted Authority for Bahamas Real Estate" and has an incomparable selection of property listings from across The Bahamas.
Listings include private islands, luxury estates, affordable homes, and condos, vacation villas, commercial and development properties, as well as vacant land. With eight offices strategically located throughout the Bahamas in Nassau; Freeport; Governor's Harbour, Eleuthera; George Town, Exuma; Marsh Harbour, Hope Town, and Green Turtle Cay, Abaco: the HG Christie team of professional agents is knowledgeable, well established in their market and ready to support their client needs. Website: hgchristie.com