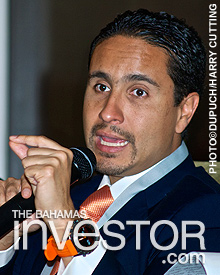 Pictured: Abel Francisco Mejia-Cosenza, Partner, Sanchez Devanny, Mexico speaking at The Nassau Conference held recently at The British Colonial Hilton Hotel in downtown Nassau. (Harry Cutting photo/©Dupuch)
South America could prove a lucrative market for The Bahamas if the country were to tap into wealth management opportunities in Mexico and build on momentum already created in Brazil, according to industry leaders from those countries.
During a panel discussion at last week's Nassau Conference, Abel Francisco Mejia-Cosenza, partner at Mexican law firm Sanchez Devanny, outlined the areas of opportunity in Mexico where there are around 145,000 millionaires worth $736 billion.

"There is a lot of opportunity on the private wealth side," he said and advised Bahamian professionals to make connections with Mexican law firms and promote tax compliant structures that would meet the demand for transparency, compliance and flexibility among high-net-worth individuals.
Mejia-Cosenza said that SMART Funds and the recently launched Investment Condominium (ICON) fund should prove as popular with Mexican investors as they have in Brazil.
ICON was first introduced to Brazilian fund advisors in August this year during a Bahamas Financial Services Board Brazil Landfall event. According to Humberto Sanches, partner at Ulhoa Canto Rezende e Guerra, it has been welcomed by that market as it is very unique and models the structure of Brazilian funds.
"The initial reaction [to ICON] was good," he said. "I believe ICON is going to be the product of the future. These funds will play a more important role in the Brazilian wealth planning scenario."
The ICON fund entails investors agreeing to pool assets so they may be invested as a collective. It was designed primarily for the Brazilian market and is a key part of The Bahamas' efforts to make inroads into the niche fund market in Latin America.
In presenting the ICON bill to the House of Assembly earlier this year, Minister of Financial Services Ryan Pinder said: "The ICON is another example of The Bahamas' never-ending commitment to be first in class in the provision of market responsive regulated and sophisticated products. The Bahamas has shown it is skillful in the adaptation of innovative concepts for international markets."
cmorris@dupuch.com