Atlantis Paradise Island has announced the launch of the Ocean's Edge wedding venue. The resort's latest offering brings to 18, the total number of wedding venues at this ocean-themed hotel located on Paradise Island.


The new wedding venue was unveiled this week at an event attended by key wedding experts and media from the United States, Canada and The Bahamas.
Ocean's Edge offers an unrivaled, oceanfront view for a one-of-a kind-bride seeking a private, sophisticated setting.
Ocean's Edge at The Cove, located on Paradise Beach, has a maximum 200-guest capacity.
A popular wedding destination, Atlantis played host to over 350 weddings last year, according to Anna Schmid, vice president of weddings and special affairs.
"We were running out of spaces on the property. We like to make it a very special experience for everyone," she said during a soft launch Monday.
"We don't want it to be Las Vegas in the Caribbean, where you are running into a bride on every corner."
Inspired by the growing trend of destination weddings at Atlantis, the Love Atlantis wedding team began the pursuit of a new, awe-inspiring location in early 2013.
Nine months later, Ocean's Edge became a reality.
Several couples chose Ocean's Edge as their wedding venue prior to its official opening.
"We are experts in chasing paparazzi away for celebrity weddings and we do two-person weddings just as easy," says the resort's head, George Markantonis. "We have done several multi-million dollar ones last year. [Atlantis] is just a wonderful place to have a wedding tailored for you."
Ocean's Edge wedding pavilion boasts a good-size oceanside beach deck, beautifully landscaped event lawn, an outdoor patio and a pavilion which resembles a small chapel. Lining the sides of the pavilion are open arches that allow optimal amounts of sunlight to flood the venue.
The nearby beach deck was constructed with teak wood and is positioned directly over the sand.
Adjacent to the beach deck sits the event lawn, surrounded by lush landscaping and tropical palms.
The wedding pavilion seats 50 guests for quieter receptions and rehearsal dinners; for ceremonies, 100. The beach deck allows 100 guests for receptions and 200 for ceremonies.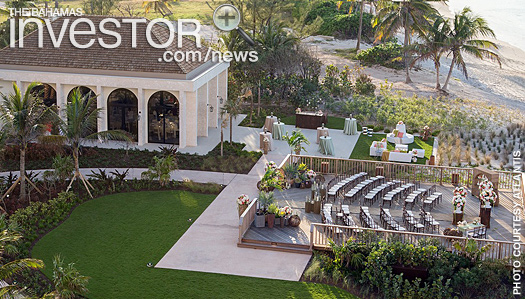 An ariel view of the Ocean's Edge wedding venue Atlantis Paradise Island. (Photo courtesy Atlantis)
tblair@dupuch.com