Source:
Date:
Updated:

PRNewswire
Friday, May 3, 2013
Friday, May 3, 2013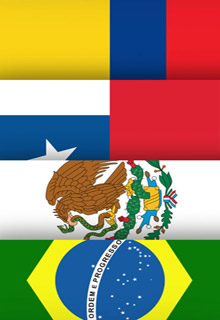 MIAMI, May 3, 2013 /PRNewswire/ — On October 24th and 25th Latin Markets will gather more than 400 private bankers, high net worth individuals and family offices from the Latin American Private Wealth Management community at the JW Marriott Hotel in Miami.
The annual Private Wealth Latin America & The Caribbean Forum will feature discussions of wealth management, asset allocation, best practices in platform selection and technology, wealth protection strategies through estate planning, tax and trusts. Forum attendees will be able to uncover difficult to reach family offices and understand where industry growth is taking place during 10 hours of valuable networking opportunities with delegates from the United States, Mexico, Guatemala, Honduras, Nicaragua, Costa Rica, Panama, Ecuador, Colombia, Peru, Brazil, Chile, Paraguay, Uruguay, Argentina, The Bahamas, Curacao, Dominican Republic, Puerto Rico, Cayman Islands. Over eighty speakers from the region's largest wealth managers, private banks, family offices, HNWIs, the asset management, technology and law communities will be in attendance.
Newly Announced Participants Include –
Douglas W. Evans , Head of Investments, Abbot Downing
Jorge Becerra , Senior Partner, Boston Consulting Group
Cara Williams , Global head of Wealth Management, Mercer
Santiago Ulloa , President, WE Family Offices
Ignacio Pakciarz , CEO, BigSur Partners
Ernest Dawal , Chief Investment Officer, SunTrust Banks and GenSpring Family Offices
Paul Koch , President, ALTASOL
Latin Markets will continue to cover key issues in this specialized market as part of the Private Wealth series including The Private Wealth Brazil Forum on June 11, 2013 at the Tivoli Hotel in Sao Paulo, Brazil.
Currently, discounted registration is available here.
Latin Markets is working in collaboration with Sun Life Financial Inc., Thalia Hedge Fund Investments SA, Northstar Financial Services, Fisher Lynch Capital LLC, Invex, and Temenos Group AG.