Source:
Date:
Updated:

RTTNews
Friday, May 17, 2013
Friday, May 17, 2013

Royal Caribbean Cruises Ltd. (RCL: Quote) announced that its Vice Chairman and Chief Financial Officer, Brian Rice, will transition his Chief Financial Officer responsibilities to Jason Liberty as he prepares for his retirement in the spring of 2014. However, Rice will continue to serve as Vice Chairman until his retirement, overseeing Royal Caribbean's finance, supply chain, strategy and information technology functions.

Rice has been with Royal Caribbean for more than 20 years, serving as Chief Financial Officer since 2006 and Vice Chairman since 2012.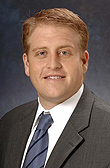 In a related move, Jason Liberty (right) has been appointed as new Chief Financial Officer, effective immediately, and will continue to report to Rice. Liberty joined Royal Caribbean in 2005 and most recently served as Senior Vice President, Strategy and Finance, overseeing the company's Corporate and Strategic Planning, Treasury, Investor Relations and Internal Audit functions. Before joining Royal Caribbean, Liberty was a senior manager at the accounting firm KPMG.
In addition, Henry Pujol has been named Senior Vice President and Controller, and in his new role will report to Liberty. Pujol joined Royal Caribbean in 2004 as Assistant Controller and was promoted to Vice President, Corporate Controller in 2008. Before joining Royal Caribbean, Pujol was a senior manager in the audit practice of KPMG.