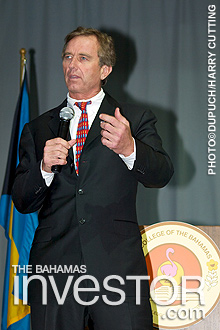 The Bahamas needs to reduce its dependency on oil and explore more environmentally sustainable sources of energy, according to leading environmentalist lawyer Robert F Kennedy Jr.
Speaking at the College of The Bahamas (COB) yesterday, the environmental activist urged Bahamians to protect their natural resources and safeguard their marine life by weaning themselves off oil and onto solar power.
"You have a unique opportunity to adopt solar energy in The Bahamas," he said. "Solar power is the best, most effective way to produce energy today in The Bahamas. It would create jobs here and the money would stay here. [At present] you are at a competitive disadvantage with every other country because of the amount you are paying for electricity."
"Solar is the cheapest form of energy you can buy. You ought to have solar panels on every house in The Bahamas."
Kennedy said the power plant at Clifton Pier was a serious polluter and called for greater environmental protections to prevent the water on the south side of New Providence from becoming more polluted. "There used to be a giant forest of elkhorn coral down there. Now there is not a single piece of living coral left," he said.
He highlighted the potential losses to the tourism industry if the pollution was allowed to continue, as well as the devastating effect it would have on all aspects of life in The Bahamas, saying: "They are killing the goose that laid the golden egg out there. We recognize that nature is the infrastructure of our communities. We have to start protecting our environmental infrastructure – the air we breathe, the water. Those things are the property of the whole community."
"The beach, the reefs and the shorelines are a social safety net. That social safety net is being stolen from the people of The Bahamas."
Kennedy also spoke of his work as president of the Waterkeepers Alliance, a foundation set up to monitor waterways via patrol boats and take action against any polluters. There are 200 waterkeepers around the world. "We look forward to the day when every water way has a waterkeeper, including The Bahamas," he said.
Kennedy was invited to speak at COB as part of the institution's mandate on environmental issues. The college runs a Small Island Sustainability Programme and is a member of the College & University Presidents' Climate Commitment, which calls for a move to carbon neutrality.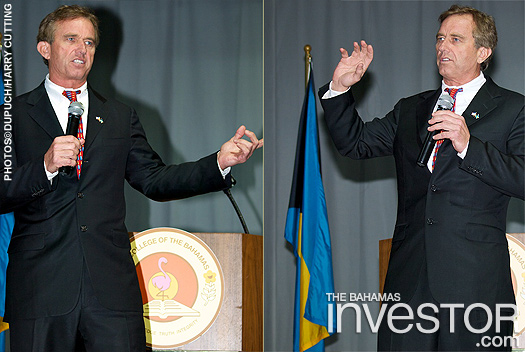 Guest speaker Robert F. Kennedy Jr spoke about climate change and environmental causes as they affect Small Island Developing States (SIDS) at the Performing Arts Centre of COB, (College of The Bahamas) on January 21. (Photos@Dupuch Publications/Harry Cutting)
cmorris@dupuch.com