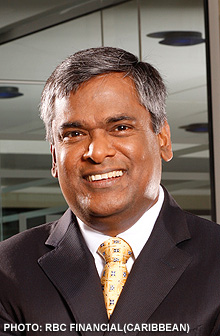 Port-of-Spain, Trinidad, January 29, 2013: RBC Capital Markets, working in conjunction with RBC Merchant Bank (Caribbean) Ltd, successfully placed a US$300 million amortizing bond issue (consistent with US Reg S and 144A markets) for the Caribbean Development Bank (CDB), to bolster regional development and stimulate economic growth within the region.
CDB is the region's only multilateral development financing organization, and has the highest long-term debt securities rating of all Caribbean financial institutions, with an AA grade from Standard and Poor's, and an Aa1 rating from Moody's.
Pictured: (left) Suresh Sookoo, Chief executive officer, RBC Financial (Caribbean).
RBC (Canada) is rated A by Standard & Poor's and A1 by Moody's for subordinated debt.

The 15-year fixed rate bond bears interest of 4.375 per cent annually until maturity in 2027, and represents a significant investment inflow into the region. Proceeds of the bond issue will be used to augment CDB's capital ratios further, particularly in the face of prevailing downward trending regional economic conditions and the marginal growth being experienced throughout the region.
The bond is expected to have a positive impact on CDB's development initiatives, ultimately supporting funding for the bank's borrowing member countries (BMCs).
As outlined in its Strategic Plan 2010-2014, CDB, plans to assist BMCs in confronting their major development challenges, as well as in implementing policies and strategies which would contribute to their economic and social development.
In commenting on the recently signed deal with CDB, chief executive officer, RBC Financial (Caribbean), Suresh Sookoo, said: "This bond issue reflects not only RBC's commitment to regional capital market development, but also illustrates our ongoing drive to collaborate with organizations, like CDB, in the spirit of sustainable investment in the Caribbean."
"We believe that the bond arrangement between CDB and RBC is indicative of the intent of both parties to deliver best-in-practice, globally competitive and relevant financing solutions and support to our clients in the Caribbean."
RBC Financial (Caribbean) is the second largest financial institution by assets in the English-speaking Caribbean, with branches in 20 countries and territories, including The Bahamas, and has consistently maintained a proven track record of successfully raising financing from local and regional bond markets.
The investment arm of RBC Financial (Caribbean), RBC Merchant Bank is headquartered in Trinidad, and has regional reach with dedicated expertise within major Caribbean markets including Jamaica, Barbados, the Eastern Caribbean and Central America, in addition to Trinidad and Tobago.
This latest bond issue between RBC Financial (Caribbean) and CDB follows the successful execution of another substantial bond issue in November 2012; this one between RBC Merchant Bank and RBC Royal Bank (Trinidad and Tobago) Ltd for TTD300 million (approximately US$50 million).