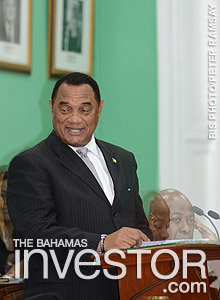 Prime Minister Perry Christie presents the 2013/14 Budget Communication in the House of Assembly, May 29, 2013. (BIS Photo/Peter Ramsay)
The broad thrust of the government's growth strategy includes diversifying the key tourism and financial services industries, as well as the overall economy, partly through the promotion of innovation in high value-added products, Prime Minister Perry Christie said.
The government also seeks to foster linkages between sectors and to identify and remove impediments to growth, particularly in the business environment, the Prime Minister added as he presented the 2013/14 Budget Communication in the House of Assembly, May 29, 2013.
"More specifically in the tourism area, the government is allocating $10 million in 2013/14 to marketing the new Baha Mar resort development at Cable Beach."

"As well, we are pursuing an expansion of airlift into The Bahamas. We are also targeting opportunities in the areas of medical research, sports, heritage and religious tourism."
Prime Minister Christie said the government is developing stem cell legislation as a means of further promoting medical research tourism.
He said that while the government does attach a high priority to identifying, promoting and supporting new foreign direct investment projects, it is also cognizant of the needs of small and medium size enterprises that are important engines of growth and job creation.
"We are therefore developing a new policy framework that will enhance the creation and expansion of small and medium size enterprises and the long-term employment opportunities that they create."
"The consultation report on the draft legislation is scheduled to be presented to the government in June and the amended legislation will be released for consultations in early summer. Tabling in Parliament is expected in the fall."
The Prime Minister said the government is also striving to enhance the business environment through a variety of initiatives that will improve the business-government interface.
These will include further expansion of the e-government platform for a number of government programmes and services, including the e-submission of declarations to customs as of June 1, the e-submission of correspondence to the Ministry of Finance as of July and the e-submission of requests for exemptions as of August.
He added that reforms are underway to make key government agencies more customer-friendly and their services more easily accessible.
"Efforts have been focused in the areas of modernisation of the Customs Department, enhancements to the suite of Business Licence services and services at the Registrar General's Department, as well as reforms to Real Property Tax administration," he said.
Prime Minister Christie added that specific initiatives for growth are also being developed in respect of aircraft and yacht registries and an arbitration centre in Grand Bahama. All of these are in advanced stages of discussion and development.