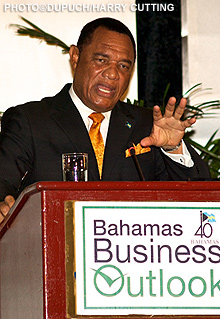 Despite the recent downturn, the government is optimistic about The Bahamas' economic future due to developments in the construction and tourism industry, Prime Minister Perry Christie (pictured) said today.
Speaking at the 22nd Annual Bahamas Business Outlook event this morning, the Prime Minister said: "In the wake of the seismic economic crisis that has gripped the world's economy over the past seven years, our small economy is still confronting economic challenges. The Bahamian economy remained on a modest, though consistent, growth trajectory in 2012."
Minister Christie said he was optimistic for 2013 however, with continued interest in foreign direct investment in real estate, and developments across New Providence such as Baha Mar, redevelopment of the downtown Bay Street area, the South Ocean resort and expansion of the Hilton Hotel injecting growth.

The Prime Minister also spoke of upcoming projects in the Family Islands, saying: "We are putting tremendous emphasis on trying to stimulate these economies." He referred to the Capo Groups' recently opened Bimini Bay Resort and the $30-million overhaul of Abaco's Marsh Harbour airport as drivers for growth.
Grand Bahama is also set for an economic resurgence, he said, thanks to an agreement with Sunwing Travel Group, under which the Reef Village at Lucaya will re-open as a five-star resort and direct flights to Canadian destinations will become available.
Commenting on the importance of this landmark deal, the Prime Minister said: "We are able to introduce for the first time in many years a major contributor in Grand Bahama."
In a bid to invigorate the tourism sector throughout the country, the government is targetting specific niche markets such as medical, sports, heritage and religious tourism, and has invested $50 million in a marketing programme to enhance the country's reputation and pull in wealthy visitors.
"[We are] positioning The Bahamas as one of the places that becomes the destination of movers and shakers," he said. "The Ministry of Tourism is aggressive and optimistic."
cmorris@dupuch.com