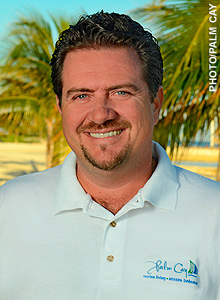 Palm Cay sales and marketing director Zachary Bonczek announced this week that buyers who sign a contract for the purchase of a condo or home in the upscale waterfront community on Nassau's southeastern shore by April 30 will get a special incentive: the developer will pay all stamp tax.
The standard practice is for buyers and sellers to share the Stamp Tax, each paying 5 per cent.
"In the past several weeks, since we unveiled the new development plans, including the near-readiness of Nassau's largest marina in number of slips and the conversion of the clubhouse into a full restaurant later this year among other amenities, we have enjoyed tremendous interest from real estate agents, brokers and the public," says Bonczek, who holds the real estate industry's highest residential CRS certification.

"We want to convert interest into sales and there is nothing more inspirational than a substantial savings. The savings are great enough to allow someone to totally furnish their new home and have funds left over."
On a 3-bedroom, two-storey beachfront townhome that is priced at $799,000, the savings will be $39,950. On a $499,000 garden townhome, savings would equate to$24,950.
Bahamas Real Estate Association (BREA) members will have an opportunity to tour the community April 27 when Palm Cay hosts an open house, lunch and development master plan presentation for licensed agents and brokers.