Source:
Date:
Updated:

NISI Yachts
Friday, May 31, 2013
Friday, May 31, 2013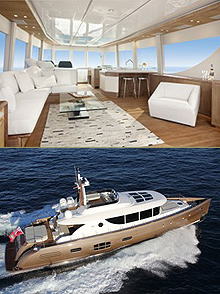 NEW YORK, May 23, 2013 (GLOBE NEWSWIRE) — The "EXPERIENCE NISI" global tour will see NISI 2400 make a final debut at ports in New York City, Stamford, Newport, Sag Harbor and Nantucket, where acclaimed yachtsmen report NISI Yachts will feel right at home.
Outfitted and cared for by the company's CEO, this is an opportunity for a first owner to acquire her following her Northeast-USA introduction.
NISI Yachts has been widely praised for groundbreaking designs, which infuse casual opulence, legendary styling and unsurpassed engineering in vessels including this 78-foot (24-meter) megayacht. From a design perspective, she elicits the experience of discovering the perfect beach club, with seamless flow between indoor and outdoor spaces. NISI sleeps up to eight guests in four beautiful staterooms, each with en-suite head, with additional quarters for two crew members.

Qualifying guests can experience the 78-foot NISI 2400 at these exclusive locations:
New York City, NY, June 6-17
Stamford, CT, June 17-19
Newport, RI, June 20-30
The Hamptons, NY, July 1-8
Newport, RI, July 11-August 8
Nantucket, MA, August 9-18
Ideal for Northeast cruising, NISI is as at ease in the Hamptons as she is in the South of France. Performance offers a maximum speed of 28 knots alongside a fuel-efficient range of 1,500 nautical miles at nine knots. NISI also has the distinction of being the first and only yacht under 100 feet (30 meters) built to RINA Charter Class with MCA Commercial standards.
NISI's cutting-edge design is complemented by technological innovation, including proprietary automation, management and monitoring systems. Features include the SkyHook® to maintain boat position and heading in wind and current, iPod/iTouch controls for lighting in each stateroom, and master touch panels for complete control of the onboard environment.
Experience NISI
After successful marketing campaigns in Asia, Europe, the Caribbean and Florida, the multi-award-winning NISI 2400 is being made available for purchase. With only 300 hours, she shows better than new and is available with full one-year bow-to-stern and additional manufacturer engine warranties. Pricing incentives are available to potential owners interested in joining NISI Yachts' co-marketing program and making her available to showcase at major boat shows.
Following debuts in Cannes and Miami Beach, NISI was honored with the International Superyacht Society Design Award, the "Best Design" World Yachts Trophy, and named Robb Report 'Best of the Best' winner in the annual 'wings and water' category, celebrated alongside the most sought after business and personal aircraft, Gulfstream, Bombardier and Piaggio.
About NISI Yachts
The pinnacle of Casual Opulence, NISI stands solitary in her class. NISI Yachts infuses legendary styling and unsurpassed engineering, with naval architecture by Setzer Yacht Architects. NISI Yachts is the first in the world to build to RINA Charter Class + MCA (MGN280) commercial standards for yachts under 100 feet in length.
NISI Collection ranges from 58 to 88 feet (17 to 26 meters) in length. NISI Custom builds are tailored from 98 to 145 feet (30 to 44 meters).
Additional information on NISI can be experienced at www.nisiyachts.com.