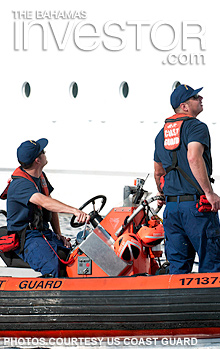 The National Emergency Management Agency (NEMA) teamed up with the US Coast Guard and the cruise line industry to conduct emergency management exercises in Freeport, Grand Bahama, April 2, 2013.
Dubbed Black Swan, these joint offshore emergency exercises test and evaluate safety procedures at sea.
The three-day exercise, designed to better understand each agencies' capabilities and concerns during a maritime mass rescue event, involved testing emergency procedures, search and rescue coordination, abandon ship process and accountability of passengers and crew, and landing site management and medical surge procedures.
One of NEMA's objectives was to conduct an exercise in Grand Bahama to ensure that the local assets were further strengthened in managing an event. The local Emergency Operations Centre was fully activated to determine the ability of the personnel to assess events and make sure corrective measures are carried out.

Coast Guard crews involved in the exercise included members aboard the Coast Guard Cutters Joshua Appleby, Tarpon and Diamondback. Crewmembers from the Bahamas Air Sea Rescue Association (BASRA) and Royal Bahamas Defense Force (RBDF) also participated in the exercise.
Cruise line assets involved in the exercise were Royal Caribbean Monarch of the Sea and Norwegian Sky, both of which were utilized for an evacuation drill of passengers and tendering to port. Carnival Cruise Line provided family guest care facilities and Norwegian Cruise Lines provided landing site forward teams.
US Coast Guard personnel from the Coast Guard Cutter Diamondback approach Royal Caribbean International's Monarch of the Seas to conduct an initial safety evaluation for exercise Black Swan conducted in Freeport, Grand Bahama, April 2, 2013. (Photo courtesy of the US Coast Guard)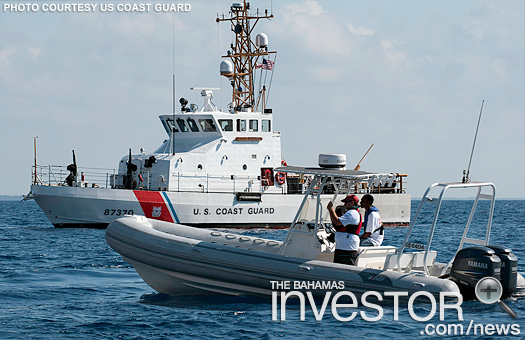 Search and rescue personnel from the Bahamas Air Sea Rescue Association team up with the US Coast Guard Cutter Diamondback to ensure safety and security during exercise Black Swan conducted in Freeport, Grand Bahama, April 2, 2013. (Photo courtesy of the US Coast Guard)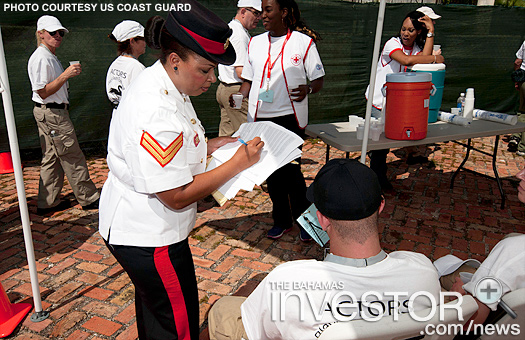 A Royal Bahamas Police Force officer processes actors during exercise Black Swan conducted in Freeport, Grand Bahama, April 2, 2013. (Photo courtesy of the US Coast Guard)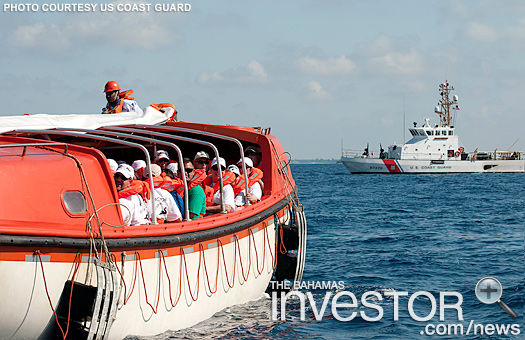 A lifeboat with actors onboard makes its way to shore as the US Coast Guard Cutter Diamondback observes during exercise Black Swan. (Photo courtesy of the US Coast Guard)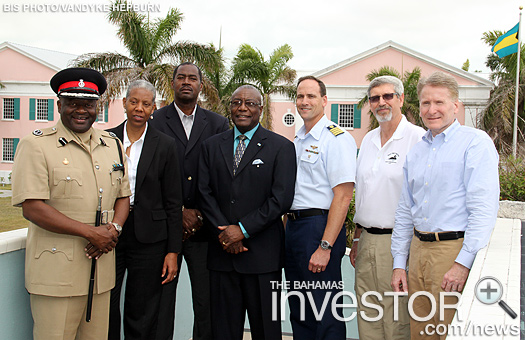 Pictured: (from left) Emrick Seymour assistant commissioner of police, Northern Bahamas; Catherine Weech, hospital administrator, Grand Bahama Health Services; Capt Stephen Russell, director, NEMA; Alexander Williams, administrator, City of Freeport District; Capt. Todd Lutes, 7th Coast Guard district chief of incident management branch; Paul Culver, Black Swan Exercise director; and Michael McGarry, senior vice president, Public Affairs Cruise Lines International Association. (BIS Photo/Vandyke Hepburn)