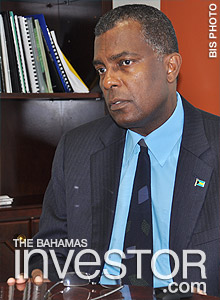 Minister of Foreign Affairs and Immigration Fred Mitchell said this week that the Prime Minister Perry Christie's participation in the CARICOM Heads of Government Meeting, held earlier that week, signalled his "re-emergence" in the Caribbean theatre.
"This was the first opportunity he had to attend a Heads of Government meeting since the general elections last year," Minister Mitchell said.
Minister Mitchell noted that the main issue discussed at the meeting was the question of regional security.
The Bahamas chairs The Council of National Security Ministers and a presentation was made by the Minister of National Security for The Bahamas Bernard Nottage urging certain steps for the development of national security interests in the region, added Mitchell.

Minister Mitchell said that there was a discussion with United States Attorney General Eric Holder and Prime Minister Christie urged the US to do more in terms of putting resources into the countries of the region.
Another issue discussed at the CARICOM meeting was the state of affairs in the Turks and Caicos Islands.
"We intervened in support of the Turks and Caicos Islands because we disagreed with the imposition of direct rule," Minister Mitchell said.
It was indicated in CARICOM, Minister Mitchell pointed out, that The Bahamas would keep the body appraised of what is happening in Turks and Caicos, as well as all matters dealing with the islands would be kept under review.
Caribbean Prime Ministers also discussed the impact of the new US tax ruling FATCA, according to Mitchell.
The Minister added that he and Minister Nottage visited former President of Haiti Jean Bertrand-Aristide, who now runs a medical school.
Minister Mitchell added that CARICOM is important for the region, as it provides a stage for discussion and action for issues pertinent to the region.
"It is important when the conversation takes place for the head of the government to be there because it makes a big difference how people interact with a country when the head of the country is there," Minister Mitchell said.