PARADISE ISLAND, Bahamas — A storm the locals haven't seen in some 20 years pounded Paradise Island through the night, dumping about a foot of rain in an eight-hour span that flooded the Ocean Club. There was so much water on the course — the entire 18th fairway was covered — that the tournament was reduced to 54 holes.
The first round is to start Friday with a Sunday finish, leaving some flexibility in case more showers cause problems.

The rain wiped out the pro-am, so the LPGA Tour hastily arranged for players to meet at a restaurant at The Atlantis [sic] for a question-and-answer sessions with the amateurs. The group of players included the top three in the world ranking — Inbee Park, Lewis and Pettersen, along with Brittany Lincicome and Natalie Gulbis.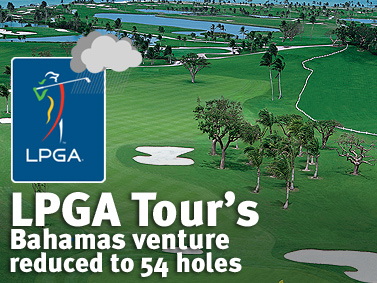 This is an excerpt from The Washington Post as it appeared on May 23, 2013. For updates or to read the current version of this post in its entirety, please click here.

Continue reading this post >