Source:
Date:
Updated:

AFP
Friday, May 24, 2013
Friday, May 24, 2013

NASSAU, Bahamas — A water-logged course has forced officials at the inaugural Bahamas LPGA Classic to shorten Friday's opening round to 12 holes with hope of finishing 36 holes by Sunday.
Workers continued Thursday to try to remove water from drenching rainstorms that has flooded parts of the ninth, 15th, 16th, 17th and 18th holes, while organizers plotted a new course route past the Ocean Club's unplayable holes.

Needing a minimum of 36 holes to have an official event, officials hope to complete a minimum of 12 holes on Saturday and 12 on Sunday with a reassessment of playable holes after each day's play.
As a result, there will be no cut this week but the low 70 and level will earn official prize money provided 36 holes are completed.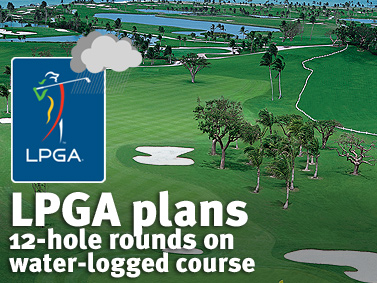 This is an excerpt from AFP as it appeared on May 24, 2013. For updates or to read the current version of this post in its entirety, please click here.

Continue reading this post >