Source:
Date:
Updated:

Vertikal.net
Thursday, May 16, 2013
Thursday, May 16, 2013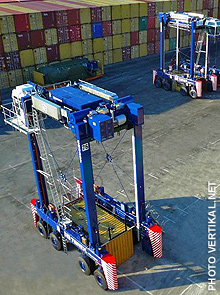 Freeport Container Port (FCP), which is part of Hutchison Port Holdings, has ordered 10 Terex NSC 634 E ECO straddle carriers from Terex Port Solutions with an option for an additional 12 machines. Operational from this month, the straddle carriers will be at the FCP terminal on Grand Bahama Island.
The units can stack 9'6'' (2.9m) high containers, have lifting capacities of up to 60 tonnes under the spreader coupled with maximum travel speeds of 30 kph. One feature of these straddle carriers is the hybrid drive system, consisting of both a diesel powered generator and electrostatic short-term storage media, which results in significantly reduced fuel consumption and exhaust emissions compared to a traditional drive system.

"For some years, Terex hybrid straddle carriers have proven their worth in everyday cargo handling", reports Guido Luini, managing director of Terex Port Solutions in Würzburg. "The fact that we have received this order from Freeport Container Port for a fleet of machines equipped with this technology is confirmation of the great acceptance for it and, at the same time, of our leading position in this segment of the market."
25 diesel-hydraulic Terex NSC 644 H straddle carriers are already in use in the Freeport terminal. As FCP gradually expands its terminal, it is placing particular emphasis on the cost effectiveness and environmentally compatible operation of the handling machines used.
According to operators, they see an immediate benefit with up to 20 percent less fuel consumed by Terex straddle carriers with hybrid drives compared to conventional, economical diesel-electric drives, depending on terminal and operating conditions. Hybrid operators also reported reduced exhaust gas and noise emissions in the terminal.
"Electric energy offers the best efficiency rating, high potential for deploying more energy-efficient technologies and the full advantage of renewable energy sources. This is why, wherever it makes sense, TPS cargo handling machines are offered with solutions for using power from the harbour mains," explains Luini. "For our mobile machines, such as straddle carriers, which cannot be hooked up to external power, we offer drive variants with hybrid technology based on diesel-electric systems. In its latest development, TPS has produced battery-powered automated guided vehicles (AGVs) for horizontal container transport."
Source: Vertikal.net.