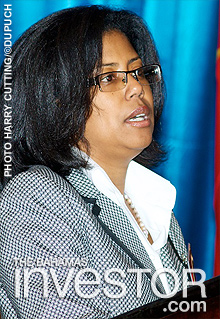 The Bahamas offers investors a myriad of opportunities and is a stable jurisdiction with a long history of financial expertise, according to former chief executive officer of the Bahamas Financial Services Board (BFSB) Wendy Warren.
Warren, managing director of financial services group Caystone Solutions, made the comments at the Bahamas International Investment & Business Forum (BIIBF) held in Freeport last week. She said the country performed well in the three major categories that investors consider–location, infrastructure and history–and said this helped the country attract business even in recessionary periods.
"The Bahamas dominates in the areas that are criticially important," she said. "It is a compelling place to do business. Today's environment is dominated by uncertainty. In order to survive we have to be among the best."

Warren said that The Bahamas has been at the forefront of finance in the region since the 1930s and pointed to the high level of expertise among professionals in the sector, saying this helps give the country the edge over its competitors.
She also stressed that a close working relationship between the regulators, the private sector and the government helped ease business, saying: "This partnership is powerful and is compelling us to further growth."
Warren also assured potential investors at the two-day event that the country would continue to develop its infrastructure and cater to international business to encourage sustainable growth.
"We are not just concerned about today, we are concerned about tomorrow. You will not find us to be a fly-by-night jurisdiction."
The BIIBF, which ran February 20-22, also heard from Prime Minister Perry Christie, who delivered the keynote speech, director of investments with the Bahamas Investment Authority Joy Jibrilu and chairman of the Grand Bahama Port Authority Ian Fair.
cmorris@dupuch.com