Minister of National Security Dr Bernard Nottage on Monday officially welcomed delegates attending the Caribbean Financial Action Task Force (CFATF) XXXVIII Plenary Meeting being held at the Grand Lucayan Resort on Grand Bahama this week.
Nottage is the acting Minister for Tourism, and was filling in for Tourism Minister Obie Wilchcombe, who is currently out of the country.

Minister Nottage told delegates during a cocktail reception held at the Pelican Bay Resort that The Bahamas is pleased to host them and "wants to be sure that everybody is being properly taken care of and having an enjoyable time."
He told them that the second pillar of the Bahamian economy is financial services that "there are a number of bills currently before the House of Assembly that will allow the country to become more compliant and better able to deal with the problems of trans-national crimes that are associated with the transfer of monies through various countries."
"We have an amendment to the Penal Code, the Evidence Act, the Justice Protection Act, the Extradition Act, in order that we may comply and be an example that others would wish to emulate, because we have come to find out that unless we do it properly, it puts our economy at risk," he stated.
He thanked the group for electing Bahamian Attorney General Allyson Maynard-Gibson as the next chairperson for the CFATF.
The official opening ceremony for the CFATF Plenary Meeting will take place November 20 at the Grand Lucayan Resort.
Governor General Sir Arthur Foulkes is expected in Grand Bahama for the opening ceremony and Deputy Prime Minister Philip Brave Davis will deliver the keynote address.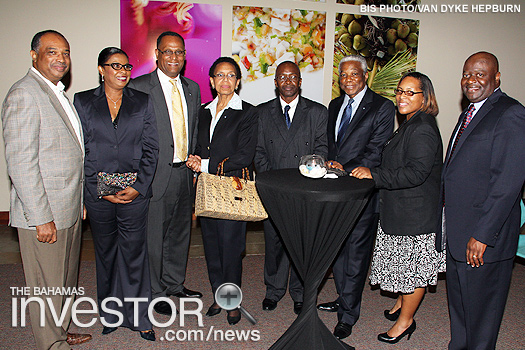 Minister for National Security Dr Bernard Nottage officially welcomes delegates attending the Caribbean Financial Action Task Force XXXVIII Plenary Meeting during a cocktail reception November 18, 2013, at the Pelican Bay Resort. Pictured: (from left) Permanent secretary Melvin Seymour, Ministry for Grand Bahama; Portia Nottage, wife of Dr Nottage; Dr Michael Darville, Minister for Grand Bahama; Allyson Maynard-Gibson, Attorney General and incoming CFATF chairperson; Dr Christopher R Malcolm, Attorney General, British Virgin Island; Dr Nottage; Senator Tanisha Tynes; and Emerick Seymour, assistant commissioner of police. (BIS Photo/Vandyke Hepburn)