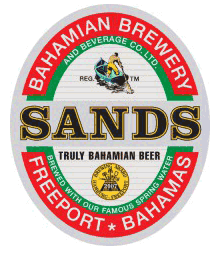 Owner of the Bahamian Brewing and Beverage Co, Jimmy Sands, announced at the opening of the company's corporate offices April 18 that the company will start exports to Florida within two months.
At the event, State Minister for Finance Michael Halkitis congratulated the Sands family for its history in the beverage business.
He noted that Everett Sands started a store in Grand Bahama, as an entrepreneurial venture, and that company grew as Butler & Sands, to be the largest wine and spirits company in the country.
Halkitis said the progression from a small store, to the largest domestic distributer, to a manufacturer is a natural progression for a well planned company.

"This investment that you see here being unveiled today is a manifestation of not only the pioneering spirit, courage, belief, vision of Mr Jimmy Sands, but also a belief in the Bahamian economy, belief in Bahamians, and belief in what we can do."
"His belief and his commitment that Bahamians can brew beer just as well as anybody else in the world and indeed can do anything just as well as anyone in the world," said Minister Halkitis.
"I'm proud to congratulate Mr Sands on having a 100 per cent Bahamian company. I want to congratulate him for his commitment to excellence, his commitment to putting out the finest products that can compete for medals globally."
From the 60-year-old Butler & Sands, the Bahamian Brewery and Beverage Co had its start in 2007 with the introduction of Sands Beer.
A ribbon cutting ceremony was held to officially open the new Nassau Street corporate offices of the Bahamian Brewing and Beverage Co April 18. From left: Everett Sands, Tammy Sands, Jimmy Sands, Minister Michael Halkitis, Minister Khaalis Rolle, and Dr Hubert Minnis. (BIS Photo/Gena Gibbs)