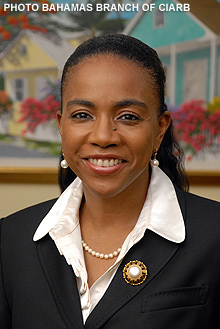 Pictured: Bertha Cooper-Rousseau, chair, The Bahamas Branch of Chartered Institute of Arbitrators. (Photo courtesy Bahamas Branch of Chartered Institute of Arbitrators)
With the legislative framework in place, retooling Bahamian professionals with the skill sets needed for arbitration is fundamental for The Bahamas to become a successful international arbitration hub in the region, according to the Bahamas Branch of The Chartered Institute of Arbitrators (CIArb).
To this end in March 2013, the branch will launch a strategic training agenda with the goal of producing internationally recognized accredited arbitrators and mediators within five years.
"This will create the platform for the continuation of the government's national mandate to establish The Bahamas as an International Commercial Arbitration Center," said Bertha Cooper-Rousseau, chairperson of The Bahamas Branch of CIArb.

Arbitration is a mechanism by which a dispute is referred to a neutral third party for a decision. The decision is called an award, which is legally binding and enforceable.
The Arbitration Act, 2009 and the Foreign Arbitral Awards Act, 2009 allow the legislative infrastructure for both domestic and international disputes to be resolved.
According Cooper-Rousseau, developing the country in to a successful arbitration hub will require the mobilization of members from various professional bodies and the judiciary to embrace CIArb's education and training pathway.
She stressed that for The Bahamas to be recognized as an international arbitration center will take time.
"If we are to take full advantage of our geographic location, we must first implement a strategic significant development plan that will involve a working partnership between the policy makers, the judiciary and the private sector."
Since the reinstitution of the Ministry of Financial Services & Investments in 2012, the Executive Committee of The Bahamas Branch has participated in numerous consultations with Minister Ryan Pinder and made recommendations to implement an arbitration commission, which will be constituted of key stakeholders and international commercial and maritime arbitrators.
Cooper-Rousseau contends that positioning the jurisdiction to become an arbitration seat will involve implementing the institutional infrastructure needed to conduct arbitration. The Bahamas will also need strong endorsements from international institutions namely, The International Chamber of Commerce, The London Court of International Arbitration, and The London Maritime Arbitrators Association and others.
"The legislation provides for matters to be heard here and for certified arbitrators to settle disputes on our shores, this is not enough. The branch wants to assure transactional attorneys that when drafting arbitration clauses in NY, London, Hong Kong or Singapore, The Bahamas has a pool of arbitrators who are skilled in various professional disciplines. Training and international recognition is key."
The Bahamas ' position as a leading ship registry and its close proximity to emerging economies in South America makes the push towards transforming the jurisdiction to an arbitration hub worth the effort.
"We have a unique opportunity to develop an arbitration model with the potential to greatly enhance our financial services product and we are well on our way, but we must be strategic in our approach and proper training must be the foundation."