Arlene Nash-Ferguson, 40th Independence Anniversary Committee member, announced that the 40-day Independence Countdown will be launched in Rawson Square at 6:00 pm May 31, 2013.
"The intent of the programme is to encourage excitement and the build up for our independence celebrations," Nash-Ferguson said during a press conference at the 40th Anniversary Independence Secretariat, May 8, 2013.

She explained that one of the main features of the launch is that the official Bahamian flag for Independence 40 will commence a 40-day journey from Rawson Square that evening and travel throughout the Islands of The Bahamas with the assistance of the Royal Bahamas Defence Force, the Royal Bahamas Police Force and other agencies.
"They will be charged with the responsibility of returning the flag to the nation's capital on the evening of July 9 where it will be raised at the official flag raising ceremony at Clifford Park."
"We want every single Bahamian to feel a part of the 40th Anniversary celebrations and the flag is a symbol of unity; we want every island to have the opportunity to raise it if only briefly before it gets to Clifford Park. That is the main centrepiece for the 40-day celebrations," she said.
She added that the committee is encouraging the entire country to get involved and to prepare for the 40-day launch.
"We want you to drape your homes; we want you to drape your neighbourhoods and we want you to fly your car flags and we want you to get ready to celebrate our independence."
"We will only have one opportunity to celebrate our 40th and we want to make it as special as possible."
Chairman of the 40th Anniversary Independence Secretariat, Jack Thompson and co-chair of the 40th Independence Anniversary Committee, Charles Charter also attended the press conference with special guests the Region Bells from Cat Island.
Thompson announced that the Region Bells, the longest serving gospel group in the country, created a jingle for the 40th Independence Celebrations called A Bridge to the Future, the Journey Continues.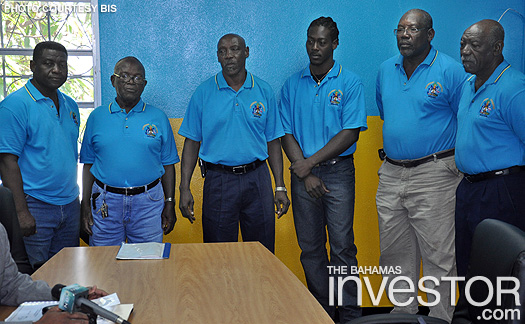 The longest performing Bahamian gospel group, the Region Bells of Cat Island. (Photo Courtesy BIS)
Carter added that the group will be celebrating its 65th anniversary on July 7, and that celebration is going to be first gospel event of the 40th Anniversary Independence calendar.
He also encouraged Bahamians to visit the Independence celebrations official website.
"You can make contributions as to what you think independence ought to be and you can also find out all of the events taking place during independence."
Carter said plans are well on the way for a celebration of Bahamian music, which is tentatively being called From Burma Road to the Barefoot Bandit.
Further, he said downtown business owners are going to decorate their stores and the Bay Street area, while the government is going to start putting up independence decorations and flags.