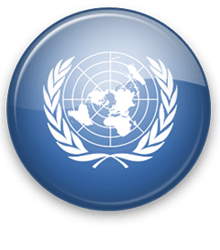 Minister of Social Services and Community Development Melanie Griffin will head a Bahamian delegation to the United Nations (UN) in New York this week, where they will appear before a UN committee on the elimination of discrimination.
The Committee on the Elimination of Discrimination against Women consists of 23 experts on women's rights from around the world.
Including The Bahamas, 185 countries have signed onto the convention and must submit country reports outlining how the rights of the convention are being implemented in areas such as education, employment, marriage and family relations, healthcare, politics, finance and law.

The committee formulates general recommendations and suggestions.
Minister Griffin will be accompanied by Barbara Burrows, permanent secretary in the Ministry of Social Services and Community Development along with other senior social services officials and those from the ministries of Foreign Affairs, Health and Education, and the Bureau of Women's Affairs.
"This meeting will allow The Bahamas to dialogue with the committee regarding what policies and legislation we have put in place for the protection of women, in fact all persons, who experience domestic or family violence," says Griffin.
"The dialogue will also allow us to state all of the advancements and provisions we have put in place for the advancement and protection, not only for those persons experiencing domestic violence, but also what we have done in terms of education and awareness and other areas."
Griffin says she is "absolutely satisfied" with the progress The Bahamas has made to address many of the issues–particularly at the legislative, governmental and business levels–even though there "is still much more to be done."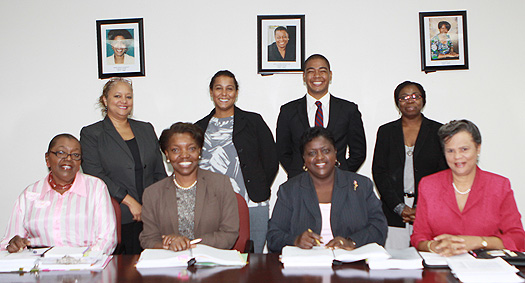 Representatives from several key government agencies met last week to go over final details for the report to be given before the UN this week. Pictured (from left seated) are: Pat Francis; Christine Campbell; Minister of Social Services and Community Development Melanie Griffin; and permanent secretary, Ministry of Social Services and Community Development, Barbara Burrows. Standing (from left) are: Jewel Major; Angelika Hilebrerdt; Kyle Chea; Shermaine Sinclair. (BIS Photo/Patrick Hanna)